Great Wall prepares for public offerings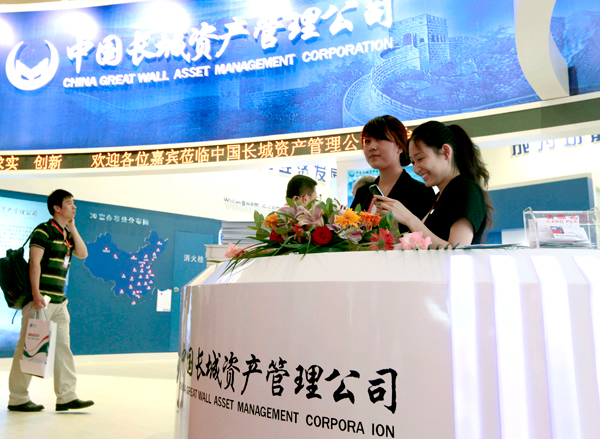 A China Great Wall Asset Management Corporation booth at an international financial technology exhibition in Beijing A QING / FOR CHINA DAILY
Manager of distressed assets to focus on SOE restructuring and Shanghai, HK IPOs
China Great Wall Asset Management Corporation will start preparatory work for an initial public offering in the mainland and Hong Kong next year.
As one of the country's four largest State-owned managers of distressed assets, China Great Wall is actively pushing forward its transformation from a State-owned enterprise to a joint stock company.
"Our initial plan is to hold the inauguration ceremony of the joint stock company at the end of this month and the unveiling ceremony in December. The new company will complete the introduction of strategic investors in the third quarter of 2017, or at the end of next year," said Zhang Shixue, general manager of the asset management company's strategic development department, at a news conference.
Its transformation follows the unveiling ceremony of China Orient Asset Management Co Ltd in October as a commercialized State-controlled company. China Cinda Asset Management Co Ltd listed in 2013 and China Huarong Asset Management Co Ltd also did so in 2015-both in Hong Kong.
In the next three years, China Great Wall is planning to set up 100 subsidiary funds totaling 300 billion yuan ($43.5 billion), based on its three existing funds, to support China's economic restructuring, industrial upgrading and the resolution of financial risks.
Its Vice-President Zhou Liyao said the company has established three funds, each worth 10 billion yuan, focusing on the acquisition, disposal and restructuring of nonperforming assets, as well as on capacity reduction in the housing market.
The company is now more focused on M&As and restructuring of large State-owned enterprises. Its investment in those businesses increased by 50 percent year-on-year.
In Hebei province, it set up a 10 billion yuan industry development fund jointly with Hesteel Group Co Ltd, a major steelmaker, to integrate the group's subsidiaries, supply chain and marketing system and help Hesteel improve the level of smart manufacturing in its main business and its capability to develop new materials and new technologies.
Currently, China Great Wall has expanded its business from the restructuring of distressed assets to the restructuring of financial assets, companies and industries, plus cross-border mergers and acquisitions, Zhou said.