ZTO looks to expand with IPO cash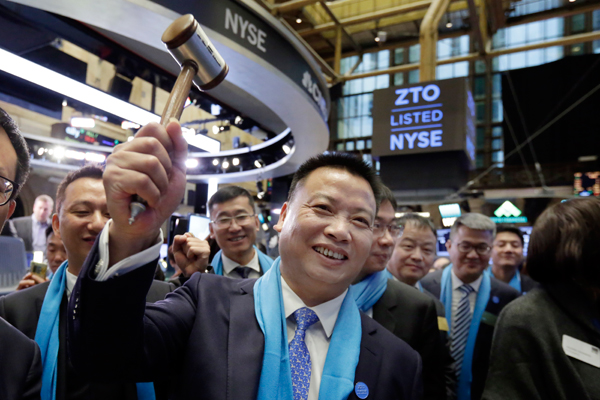 ZTO Express founder, Chairman and CEO Lai Meisong raises his ceremonial gavel on the New York Stock Exchange trading floor before his company's IPO, on Oct 27, 2016. [Photo /AP]
Shares of ZTO Express Inc, a Chinese express delivery services provider, debuted on the New York Stock Exchange on Thursday, but fell from their initial public offering price.
The stock opened at $18.40, $1.10 below its IPO price of $19.50, and closed almost $3 lower at $16.57.
"Up and down is normal; it's better to not focus too much on a single moment," Lai Meisong, chairman of ZTO, said about the stock's first-day performance.
"I believe in the quality of ZTO; it will definitely pay off for the shareholders sooner or later," Lai said firmly.
Founded in 2002, the Shanghai-based company is now a leading express delivery company in China and one of the largest of its kind in total parcel volume globally in 2015, according to the iResearch Report.
ZTO has demonstrated the fastest growth rate among the top five Chinese express delivery companies as of Dec 31, 2015, with its annual parcel volume growing at a compounded annual growth rate of 80.3 percent between 2011 and 2015, during which time it recorded consecutive annual increases in market share.
The company mainly delivers parcels for businesses, including e-commerce giants Alibaba Group Holding Ltd and JD.com Inc. Alibaba accounted for 75 percent of ZTO's business during the first half of the year.
ZTO raised $1.4 billion by selling 72.1 million US depositary shares at $19.50 apiece, after offering them for $16.50 to $18.50 each.
In its IPO filing, the company said it generated revenue of $638.8 million last year and had a net profit of $115 million, with a profit margin of 18 percent.
With more than 23,000 branches and 74 operations centers nationwide, ZTO Express has assets worth $1.77 billion with liabilities of $412 million.
It had a market share of 14.3 percent in China last year.
ZTO domestic rivals STO Express and YTO Express have unveiled plans to go public through reverse mergers, while the country's biggest player, SF Express, received conditional approval to list in a similar way in Shenzhen.
Lai said listing on the NYSE instead of a domestic stock exchange will create more brand awareness for ZTO overseas, a plus for the development of cross-border and international business, and help ZTO build a sophisticated investor base.
"We also want to take advantage of this opportunity to showcase the advanced development model of Chinese express delivery and its market," Lai added.