Markets up after Trump election victory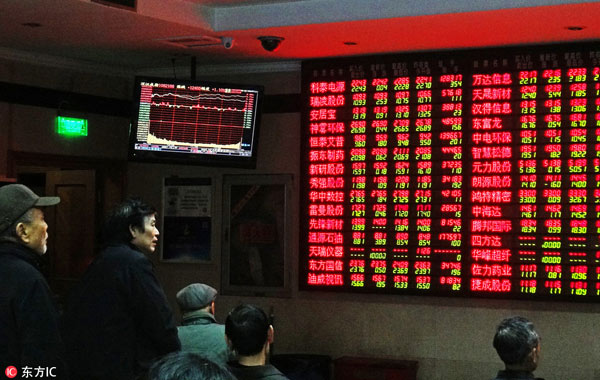 Stock investors watch market information at a brokerage house in Nanjing, Jiangsu province, Nov 10, 2016. [Photo/IC]
Stocks declined on news of poll success, but recovered as focus moved to fundamentals
Chinese stocks rallied on Thursday as investors' sentiment recovered quickly from the initial panic selling triggered by Donald Trump's victory in the US presidential election.
Analysts said that investors would soon refocus on economic fundamentals and will start assessing the long-term impact of Trump's victory on the US economic policy.
The benchmark Shanghai Composite Index rose by 1.37 percent to close at 3171.28 points. The Hang Seng Index in Hong Kong rebounded by 1.89 percent from a three month low to close at 22839.11. The US market also more than recovered, with the S&P up 1.1 percent on Tuesday, despite large fluctuations in overnight stock futures.
Fund managers said they will continue to look at the economic fundamentals rather that short-term events such as the result of the US election to guide their investment strategies.
"I continue to maintain my long-term approach and am focused on the fundamentals in China, namely an uptrend in corporate earnings in Q3 2016, a cyclical improvement in economic growth and policy efforts focused on addressing the Chinese housing market," said Ning Jing, a portfolio manager of China Focus Fund at Fidelity International.
"The Chinese A-share market could prove to be a defensive ground," Ning said.
Despite the temporary selloff immediately following Trump's victory, globally markets bounced back sharply as investors quickly shifted their focus to Trump's policy, including possible tax cuts and the expansion of fiscal spending for big infrastructure projects to spur growth.
While offering limited details of his economic agenda, Trump said in his victory speech that the US will double its growth and have "the strongest economy anywhere in the world". He also pledged to create more jobs by rebuilding infrastructure.
Zheng Mingang, an analyst at Dongxing Securities, said that Trump is very unlikely to bring "disruptive changes" in the US economic policy and his stance on fiscal policy will be a new focus for investors to follow closely.
"His fiscal policy, especially the greater spending on infrastructure will likely be a strong stimulus for the US economy. It is also expected that the US will likely accelerate the process of interest rate hikes, which could mean more pressure on the renminbi exchange rate," Zhang said.