For industrial metals and their producers, the uncertainties generated by Donald Trump's shock electoral victory come with a more than $500 billion silver lining.
That is the amount Trump has signaled he will spend to rebuild US infrastructure and is the reason copper rose to a 15-month high on Wednesday. Metal producers such as Freeport-McMoRan Inc and US Steel Corp soared, while construction and mining equipment maker Caterpillar Inc climbed as much as 10 percent, the steepest intraday gain in seven years.
While Trump vowed during the presidential campaign to renegotiate trade deals and build a wall along the Mexican border, he also pledged to at least double Hilary Clinton's estimated $275 billion, five-year plan for roads, airports and bridges. That's going to increase demand for copper and other mined commodities, according to Jefferies Group LLC.
"Both candidates agreed that infrastructure spending is needed in the US, but Trump's plan is more aggressive," Jefferies analysts including Chris LaFemina wrote in a note to clients. "He has called for $1 trillion of infrastructure investment over the next decade, and he reiterated the importance of infrastructure spending in his victory speech this morning."
"Trump is high risk but should be positive for Freeport," the analysts wrote.
Freeport, the largest publicly traded copper producer, rose as much as 9.3 percent to $13.22 Wednesday, sending its year-to-date rally beyond 90 percent. It is among the top-10 gainers on the S&P 500 Index for 2016. Jefferies expects Phoenix-based Freeport to break through $15 a share over the next year.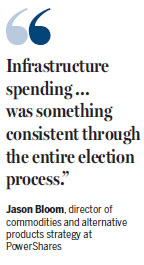 Copper for delivery in three months rose 3.4 percent to settle at $5,413 a metric ton at 5:51 pm on the London Metal Exchange after touching $5,443 a ton, its highest since July 2015. Most industrial metals recovered from earlier losses.
Steel surge
Miners are emerging from the worst commodities slump in a generation, which pummeled their debt metrics. Freeport lost 71 percent last year.
Steelmakers fared even better on Wednesday, with US Steel Corp jumping as much as 20 percent. The US steel industry should stand out as a "unique beneficiary" of a Trump presidency, Jefferies analyst Seth Rosenfeld said in a note, projecting protectionism to rise significantly.
Trump, a Republican who has never held public office, defeated Democrat Hillary Clinton after a campaign that exposed searing divides among the US public. Trump will have a Republican-controlled Congress behind him after the party shocked Democrats by keeping control of the Senate.
"Infrastructure spending appears to be a top priority, and that was something consistent through the entire election process," Jason Bloom, director of commodities and alternative products strategy at Invesco Ltd's PowerShares in Chicago, said in a telephone interview. "With significant infrastructure spending in the US and a Republican-controlled Congress to work with, it definitely makes sense industrial metals and materials would be bullish."
Volatility forecast
Brazil-based steelmaker Gerdau SA, which generates nearly 50 percent of its revenue from its North American operations, is not worried the new US president will dramatically change the North American Free Trade Agreement.
"We hope that President Trump's government invests and this really affects the steel sector and demand related to infrastructure," Andre Gerdau Johannpeter, the company's CEO, said during a conference call to discuss third-quarter results.
The Trump victory is likely to drive volatility in metals and miners, Citigroup Inc said in a note. "We would expect the miners could outperform on a relative basis given a backdrop of positive data coming out of China."
Gold bullion, meanwhile, surged as much as 4.8 percent to $1,337.38 an ounce in London as investors sought haven assets, before paring gains as stock markets curbed losses. A gauge of 16 senior gold producers rose as much as 5.9 percent, the most since July, led by Newcrest Mining Ltd and Sibanye Gold Ltd.
While agreeing Trump's victory will please gold miners, Paul Conibear, CEO of industrial-metals miner Lundin Mining Corp, said Trump's victory is a setback for industrial metals, which had only recently begun to climb from the bottom of a multi-year rout.
"People were getting more confident in improved demand in economies around the world and I think this could set us back about a year," Conibear said on Wednesday in a phone interview from Boston.
That is the amount of time he believes it will take for Trump to put a new team in place, enact new policies, and have the markets gauge the impact of those policies.
"I think we're going to see a lot of volatility until Trump's policies are clarified, until we see really what he's going to do with international relations," Conibear said.
(China Daily 11/11/2016 page15)