All singing, all dancing TV gala seeks to lure shoppers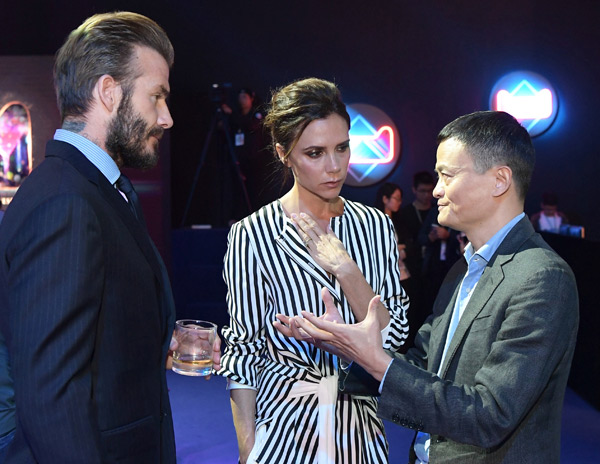 Jack Ma, chairman of Alibaba Group Holding Ltd, chats with David Beckham and his wife Victoria at a reception, in the run up to the Singles Day (Nov 11) shopping festival in Shenzhen, Guangdong province, on Nov 10, 2016. Provided to China Daily
But new breed of super shopper poses challenge, according to industry analysts
From a Chinese-style variety show performed by A-list stars to support shopping with virtual reality goggles and delivering purchases by drones, Chinese e-commerce majors are going all the way to spice things up, aiming to set new sales records on Singles Day, the biggest annual online shopping event that falls on Nov 11.
For the second time, Alibaba Group Holding Ltd held a television gala on Thursday night that ran in the hours leading up to the festival's midnight launch.
But the show this year, which is expected to draw a viewership of more than 100 million people, went fancier with more A-list guests-from NBA legend Kobe Bryant to Beth Behrs, star of US sitcom 2 Broke Girls-and more interactive features for viewers so they could win clothing worn by the stars and collect coupons to get discounts for their online shopping.
"The Nov 11 online shopping festival has entered its eighth year. It has gone beyond shopping or consumption. It has become a carnival with many entertaining factors," Daniel Zhang, chief executive officer of Alibaba, said in an earlier speech.
Created by Alibaba in 2009, the Nov 11 online festival has become a shopping extravaganza in China, and the world over, with not only e-commerce players but more and more bricks-and-mortar stores jumping in and getting in on the annual shopping wave.
Last year, Alibaba's online platform alone sold $14.3 billion worth of merchandise in the 24-hour online sales period. Many said that the sales this year are going to break another record, according to a report released in earlier this month by the Fung Business Intelligence Center, estimating that there would be a 40 percent growth in Singles Day sales at Alibaba this year, up $5.7 billion from 2015's $14.3 billion.
But others, such as Lu Zhenwang, an internet expert and chief executive of Wanqing Consultancy in Shanghai, doubted that the continuous growth of the shopping event can last forever due to China's internet population almost reaching its ceiling and concerns over a slowing economy.
"People are getting a little tired with all these years of promotion and sales. The gala and all the eyeball-catching tactics can certainly create more buzz, but whether or not it can generate real sales is still to be seen," he said.
Apart from Alibaba, JD.com Inc, the Beijing-based e-commerce major, announced earlier it would use drones and even robots for deliveries. And retail giant Suning Commerce Group Co has even invited internet celebrities to use live-streaming to engage potential shoppers.
"However, the extent of this year's success will depend on how retailers are meeting consumer expectations for a better online and mobile shopping experience," Wang Xiaofeng, a senior analyst with Forrester Research Inc.