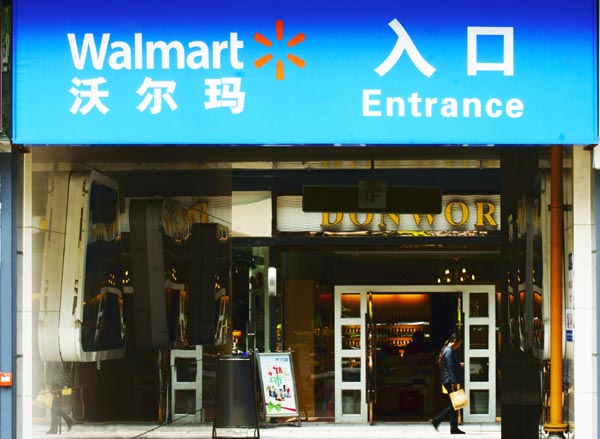 A Walmart supermarket in Yichang, Hubei province. [Photo/China Daily]
Walmart on Friday announced a $50 million strategic investment in New Dada, China's largest local on-demand logistics and grocery online-to-offline e-commerce platform.
The investment is an extension of Walmart's broader agreement with JD.com. As part of the cooperation, New Dada offers customers two-hour delivery on groceries ordered from Walmart stores through the JD Daojia Dada application.
The two-hour delivery service is available to customers within a 3 km radius of more than 20 Walmart stores that are currently part of the program. The number of Walmart stores offering two hour delivery is expected to double by the end of the year.
New Dada, an independent joint venture of JD.com and Dada, has more than 25 million registered customers and provides local on-demand delivery capabilities, with 2.5 million crowdsourced deliverers across more than 300 cities in China. Walmart has 426 stores in nearly 170 cities.
Walmart CEO Doug McMillon said: "All around the world, we're creating seamless shopping experiences that bring together our stores, sites and apps to make shopping faster and easier. Our alliance with JD and cooperation with New Dada will provide seamless shopping to millions of customers across China."
Philip Kuai, CEO of New Dada, said: "Combining New Dada's delivery network with Walmart stores means consumers will enjoy convenient access to a wide range of high-quality goods delivered to their homes and offices in record time."
Fresh food is generally seen as one of the key differentiators in grocery retailing and local retailers. Shopping behaviors of Chinese consumers are rapidly changing in light of the explosive growth of e-commerce and more time spent on leisure and entertainment, said Jason Yu, general manager of Kantar Worldpanel China.
At the moment, Walmart offers e-commerce service in a limited number of cities. However, fresh food e-commerce is more challenging because Chinese shoppers are extremely sensitive to freshness and timely delivery as well as prices, he said, noting that's why a number of pure play fresh e-commerce players went bust and more will follow.
"The investment in New Dada and JD means that Walmart can significantly expand its shopper reach and leverage the cost efficiency and convenience provided by the New Dada platform," he said.
"It is difficult for Walmart alone to make profits on fresh food delivery without sufficient scale." Therefore, the investment-based strategic collaboration makes sense, he said.
JD.com formed its partnership with Walmart Stores Inc in June of this year. Walmart sold its e-commerce operation in China to JD.com Inc in exchange for a 5 percent stake in the Chinese e-commerce major.