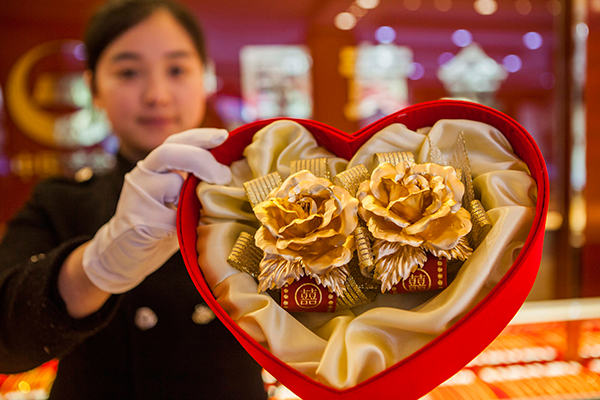 A saleswoman shows gold roses at a store in Lianyungang city, Jiangsu province,Feb 6, 2015. [Photo/VCG]
BEIJING -- Zijin Mining Group, China's biggest listed gold producer, saw its profits fall 60.48 percent in the first half of 2016, it reported Saturday.
Zijin Mining posted a net profit of 530 million yuan ($79.34 million), compared with 1.34 billion yuan during the same period last year, according to a statement on the Shanghai Stock Exchange.
Revenues stood at 38.89 billion yuan, representing a mild growth of 0.15 percent year-on-year.
The mining group, which also produces other metals such as copper, lead and zinc, increased its production and sales during the first half. However, due to hedging losses, the group's profit plummeted, the statement said.
Zijin Mining said earlier this year that it expects gold production at its mines to increase by 15 percent to 42.5 tons this year and aims to raise its mine-produced copper by 3 percent to 155,000 tons.