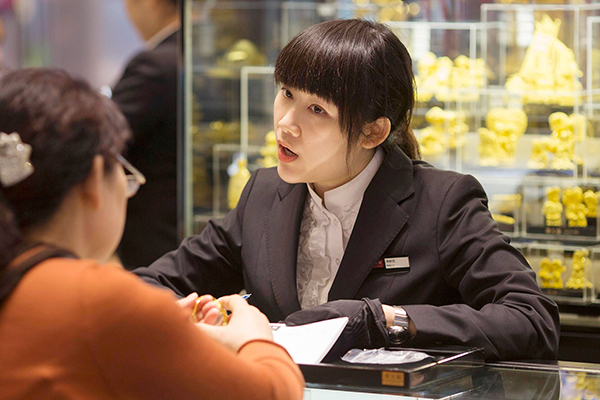 A Chow Tai Fook Jewelry Group Ltd employee talks with a customer in a store in Hong Kong. [Photo/Agencies]
China's gold jewelry sellers are facing new challenges as young gold buyers are seeking out fresh and modern takes on jewelry designs, coupled with a declining gold consumption in the first quarter, officials said on Thursday.
"The post 90s (generation) will become the main buyers for gold jewelry in the next decade, and they have a different view of investing in such expensive items," Wang Lixin, general manager of the World Gold Council, told China Daily. "Unlike older generations, they prefer jewelry that can represent themselves, something customized and personalized."
China is the world's fastest-growing market for gold jewelry, driven by an expanding and affluent middle class, who believe the precious metal can bring in good luck and fortune.
But the shifting trend is posing challenges to the country's gold industry from designers to producers and dealers, who will be forced to roll out more items with distinctive designs, he said.
"As a Chinese tradition, gold jewelry sets are used for weddings, but for younger generations, I'm not sure whether they would like to keep that tradition," Wang said.
From January to March, gold demand in the world's biggest gold market dropped 12 percent year-on-year to 241.3 tons due to a fall in the sales of gold jewelry, which accounts for more than 60 percent of the total gold consumption, a WGC report said.
The consumption of gold jewelry fell to 179 tons, down 17 percent from a year earlier, while gold investment such as on gold bars and coins increased 5 percent to 62 tons, it said.
Experts said jewelry sales fell as gold buyers adopted a "wait and see" approach on higher prices, as the international gold price hit the 15-month high to $1,300 per ounce this month.
Wang said the slowing economic growth is also part of the reason for the decrease, expecting the country's gold consumption to be flat at between 900 and 1,000 tons this year.
Zhu Zhigang, senior analyst and vice-president of the gold association in Guangdong province, said that despite difficulties and challenges, the market for gold jewelry will recover as gold companies are adjusting their strategies and marketing campaigns.
The gloomy capital market is also driving investors into the gold market, as it is seen as a safe haven by investors, he said.
At the same time, global gold demand jumped 21 percent to stand at 1,290 tons in the first quarter compared to the previous year, making it the second-largest quarter on record, the WGC said.
"This increase was driven by huge inflows into exchange traded funds, fueled by investor concerns regarding economic fragility and an uncertain financial landscape," the report said.