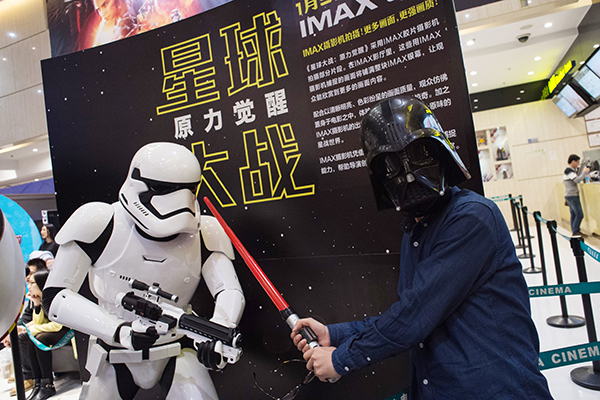 A Star Wars fan poses at a Wanda cinema in Guangzhou, Guangdong province. [Photo/China Daily]
Dalian Wanda Group Co is proceeding with plans to buy out its Hong Kong-listed property unit, after considering whether to scrap the deal in the wake of Chinese regulatory concerns, according to industry sources familiar with the matter.
Dalian Wanda Commercial Properties Co is in the process of clearing the plan with Hong Kong authorities and is likely to announce details of the buyout as soon as next week, one of the sources said.
Wanda plans to bid for all its Hong Kong-listed shares at about 10 percent above the initial public offering price of HK$48 a share and then pursue a listing within two years in the Chinese mainland, where it could fetch a higher valuation, according to the source.
Going-private deals such as Wanda's, which are designed to relocate share listings to Shanghai or Shenzhen, have been under the spotlight after China's stock regulator voiced concerns such transactions could flood its market.
Regulatory concerns have recently roiled shares of US-traded Chinese companies such as Qihoo 360 Technology Co that have announced privatization plans.
Wanda Commercial shares have been suspended from trading since late April, pending the buyout of the company.
At 10 percent above the IPO price, the Hong Kong-listed shares would be valued at about $4.4 billion, or 3 percent above the stock's last close.