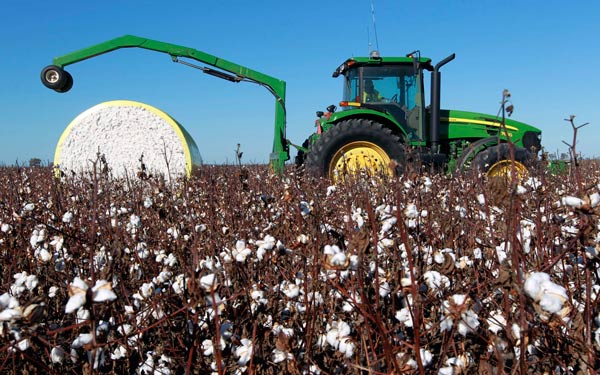 A cotton plantation of Chinatex Corp in Australia. [Photo/Xinhua]
Combining the SOEs forms a bigger rival to compete with ABCD companies
The State-owned Assets Supervision and Administration Commission on Friday announced the merger of China National Cereals, Oils and Foodstuffs Corp with Chinatex Corp, in the process creating a bigger rival to compete with the so-called ABCD companies.
The term ABCD refers to the companies that dominate global grain trading, serving as middlemen between farmers and buyers. The groups are ADM Co, Bunge Ltd and Cargill Inc from the United States, and the Netherlands-based Louis Dreyfus SAS. Chinatex, one of the nation's main textile and grains trading groups, will become a subsidiary of COFCO, the country's biggest food trader after the merger, the SASAC said on its website, indicating that the central government would push further ahead with its efforts to restructure State-owned enterprises this year.
The government had put three companies-COFCO, Chinatex and China Grain Reserve Corp, also known as Sinograin-in charge of its grain purchasing and storage business. They acted based on a government plan to ensure grain sales, maximizing processing activities, stimulating commodity trading and stabilizing the market.
"However, Sinograin's role lies in its policy-driven operations. The businesses of COFCO and Chinatex are market-driven operations and processing links, and their businesses highly match together," said Ding Lixin, a researcher at the Chinese Academy of Agricultural Sciences in Beijing.
The three companies hold a pivotal position in terms of the total volume of traded grain. Their total volume of purchased corn exceeds 50 percent of domestic trading volumes and the import volume of soy beans accounts for more than 30 percent of the total volume of imports to China.
Chinatex has two core businesses. Its textiles business covers the trading and manufacturing of cotton, wool, yarns and fabrics, home-furnishing textiles and garments. Its grains and oils business includes the trading, processing and warehousing of soybean, corn, wheat, rapeseed, soybean oil and palm oil.
Chinatex manages more than 30 trade companies and 40 plants in both domestic and overseas markets, while COFCO operates 336 branch companies and plants in more than 140 countries and regions.
COFCO President Yu Xubo said the merger would help the new company better facilitate the stability of the national grain market, the security of national grain supply and the implementation of macroeconomic policies.
Yu said they would complement each other in terms of function and region, and build synergy among SOEs.
"COFCO will continue to deploy resources in global markets especially in the fields of agricultural products, sugar, animal feed, fruit, meat and its logistics businesses via the benefit brought by the SOE reforms, merger and acquisition," he said.