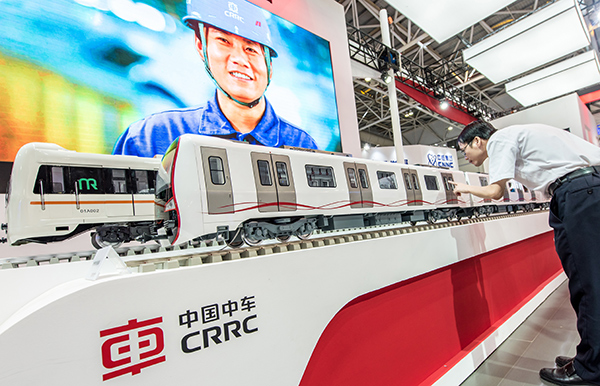 A visitor examines a CRRC subway train model at an expo in Fuzhou, capital of Fujian province. [Photo provided to China Daily]

Firm says 8A model already shipped to HK and Saudi Arabia as export markets open up
CRRC Changchun Railway Vehicles Co, one of three trainmakers in China Railway Rolling Stock Corp, has announced it is to supply its new eight-car 8A subway trains with more carrying capacity to the Beijing Subway Line 16 in March next year.
Compared with the 6A and 6B six-car metro trains currently operating in Beijing's metro system with a maximum carrying capacity of 2,000 to 2,500 passengers, the eight-car subway train will transport up to 3,560 commuters at any time during peak periods.
Equipped with a stainless steel car body and high-standard fire prevention technology, the 8A trains are 20 centimeters wider than 6A and 6B subway units. CRRC Changchun will supply a total of 280 cars for Line 16 in Beijing.
The company said it has also shipped 176 units of its larger subway model to Hong Kong and 204 to Saudi Arabia since 2009 and 2011.
Wang Zhonghai, deputy head of the research and development department at CRRC Changchun's engineering project research center, said the larger train was quite suitable for most-populated cities such as Shanghai, Seoul, Kuala Lumpur and Bangkok.
He said its traction battery system can ensure the trains run even during general power failures.
"The interior of all of the cars has been designed to be free of sharp edges to prevent injuries," Wang added.
The 50-kilometer Beijing Subway Line 16 has 29 stations between Haidian district and Fengtai district.
It will be the first subway line that will be equipped with 8A trains in the Chinese capital city.
Eager to improve the network, the Beijing municipal government has decided to roll out the new model to other lines. It is planning to introduce them to the first phase of Line 3, Line 12, Line 17 and Line 19, as it moves to improve transport capacity in the long run.
CRRC Changchun also said it will continue to supply 8A subway trains to Saudi Arabia to meet the country's needs between Riyadh and Mecca. The existing trains transported a total of 2 million passengers during the Kiblah religious period in 2015.
CRRC Changchun also began to ship subway trains to Iran from March after it signed a $1.39 billion contract to supply a total of 1,008 subway cars to the capital, Teheran, over a five-year period.
Feng Hao, a rail transportation researcher at the National Development and Reform Commission, said: "Chinese trainmakers could find great opportunities in the surging demand in many developing countries for improved railway infrastructure, passenger services and regional connectivity, as well as their desire to create jobs and new commercial areas."