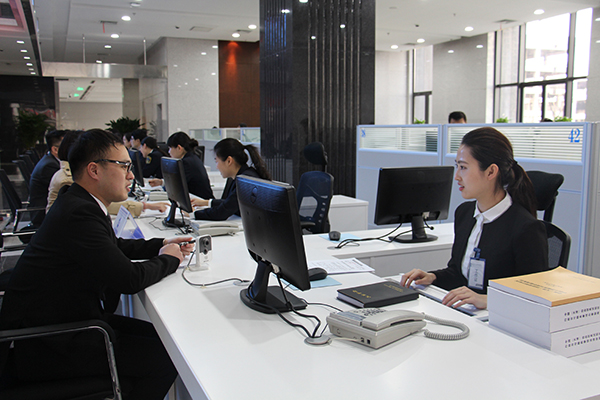 Tianjin's "one-seal" approval practice has won praise from both businesses and residents. [Photo provided to China Daily]
The Binhai New Area in Tianjin recently came up with a way to streamline its administrative approval procedures with a "one-seal" process.
Binhai began its approval reforms by establishing an administrative bureau on May 20, 2014, which has combined hundreds of duties in 18 units, reduced the number of approval seals and cut staff members from 600 to 109.
The latest "one-seal" practice was submitted for competition in Tianjin's fifth Administrative Management Innovation Awards in September 2015 and took fifth place, out of 48 competitors, based on a public poll and expert evaluation.
The new procedure means that at least 150 items could be approved in one working day.
Binhai's ability to curb the power of bureaucrats and rein in government spending have caught the attention of administrations across the country.
The State Council's Legislative Affairs Office decided to promote Binhai's practice on centralizing administrative approval power and held a meeting in Binhai on May 29, 2015, designating eight provinces and cities as centralized administrative approval pilots.
Since the new streamlined procedures took effect, Binhai's administrative approval bureau has handled 90,852 cases and has approved 89,756, drastically cutting the approval time for investment projects and enterprise commissioning, thereby improving the business environment, allowing enterprises in the area to certify a business in one working day.
The Binhai administrative committee has also transferred approval responsibility for 151 items to 18 offices below the district level or at the township level with their own windows for business approval.
Zhang Ying, an approval official, said "individuals or enterprise representatives used to have to travel more than 100 kilometers to the Binhai administrative approval bureau," but now these lower-level service stations can approve applications directly and forward the forms to the bureau online.
The service stations said they will handle more functions in the future, such as residential permits for migrants and living allowances.
"For the next step, we'll handle most of the administrative approvals over the internet, which will also have self-service stations for residents and businesses," said Zhang Tiejun, deputy head of the Binhai New Area.
Zhang added that the rate of online approvals will reach 30 percent by the end of this year.
While improving administrative effeciency, the authorities in Binhai have also made great efforts to promote all-round reforms for a sound socio-economic development.
Some of the reforms target improving locals' livelihood.
For instance, the local government has a special budget for building economically affordable housing for low-income families. At present, about 400,000 people have been covered by the initiative.
Other social welfare moves in Binhai include the residential status reform that allows more migrant workers to have permanent living permits, and the healthcare system reform that encourages private investments in hospitals and enhances community medical care services.
In the macroeconomic fields, the Binhai government have launched reforms in the financial and land management systems.
In the financial sector, Binhai encourages the establishment of a modern financial market through integrating its own resources with those of neighboring Beijing and Hebei province.