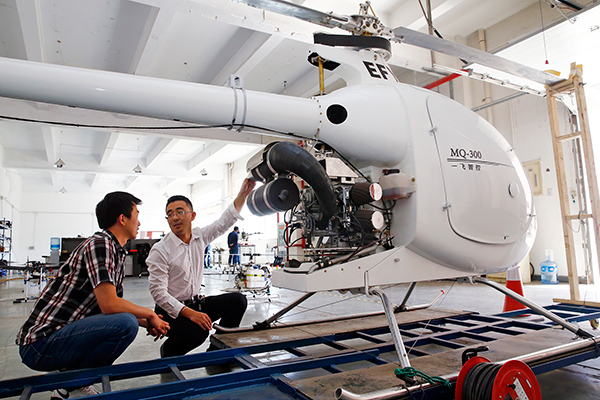 Technicians check a pilotless helicopter at a startup company in the Binhai New Area of Tianjin. [Photo provided to China Daily]
Innovative startup companies have become a new driving force for Binhai New Area's growth, according to an official of the new area in Tianjin as it celebrates its 10th anniversary.
"We have attracted a lot of incubators invested by private companies that have brought along a large number of innovative startup companies, some of which have become highly successful," said Zhang Yong, director of the Binhai New Area.
Instead of setting up a government-led incubator in the area, the Binhai government has given the floor to private companies to launch their own incubators, or mass innovation space as they are called in the area. So far, there are 15 such private incubators that have been or are about to be set up in the area. They are owned by large technology companies such as Tencent Holdings Ltd, Alibaba Group Holding Ltd and Baidu Inc.
The latest incubator in Binhai is the Bauhinia Mass Innovation Space launched in May, with around 30 startup companies with 775.5 million yuan ($117 million) in registered capital.
"We are absolutely confident in the future of the Binhai New Area," said Zheng Yuanxin, chief executive officer of Bauhinia (Tianjin) Technology Business Incubator.
According to Zheng, more than 70 percent of the startup companies in the innovation space in Binhai are technology companies. Her company is cooperating with Tsinghua University and the China Investment and Finance Association to provide more professional services for startup companies.
The governments in Tianjin and the Binhai New Area have set up a 1 billion yuan ($152 million) innovation fund to attract innovative companies. The fund offers subsidies of 3 to 5 million yuan for research institutes' purchases of equipment valued at more than 20 million yuan.
It also includes a compensation fund that covers up to 70 percent of the bank loans that any startup companies fail to pay back. Moreover, innovative enterprises that get listed on the stock exchange will gain incentives from the fund as well.
Tencent set up an incubator called Ckerhome in Binhai last year that has around 70 innovative projects going on with funding of more than 2 billion yuan.
Zhang Shuai, chief executive officer of qingchujia.com, an auction platform selling novelties, limited edition shoes and technological gadgets in Ckerhome, has lauded the business environment in Binhai for entrepreneurial companies
"The tax policies and well-constructed infrastructure are the two main reasons for us to do our business here," said Zhang. "Tax refunds are high at up to 80 percent. Employees are able to move their permanent residency registration to Tianjin, which has a great appeal for talent."
The Binhai government has offered packaged services for entrepreneurial enterprises.
"We help them go through paperwork with the government, contact the industry associations, and even help them hire people," said Yang Dehong, director of the central business management commission of the Binhai area.
"Other public service platforms for accounting, legal affairs and training have been put in place too. We have saved them a lot of energy so that they can focus on their business."