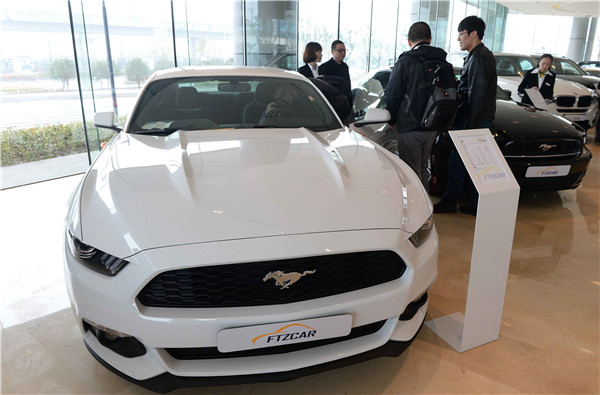 Visitors shop for a parallel import car at the China (Shanghai) Pilot Free Trade Zone.LAI XINLIN/CHINA DAILY
City aims to pass FTZ policies to clear way for gray-product companies to conduct business
Tianjin plans to continue developing parallel auto imports in its free trade zone this year after it recently reported a surge in such imports last year.
In a parallel import, independent auto dealers directly purchase vehicles from a foreign production base or auto dealer. Prices for parallel-import cars are normally 10 to 20 percent lower than the prices offered by authorized dealers.
The rise in parallel car imports last year comes after overall car imports at Tianjin fell 31.4 percent last year to 379,900 units. Parallel imports rose 14.1 percent to 79,000 units, according to city authorities.
Shan Zefeng, vice-governor of the Binhai New Area district in Tianjin, where the FTZ is located, was quoted by media outlets last week as saying that the district will support parallel auto import businesses to accelerate economic growth.
Shan said the district will invest 100 million yuan ($15.3 million) to improve the management of parallel auto import companies, lower logistics costs and establish an after-sales service network.
The district will also work with Tianjin Port, customs, inspection and quarantine authorities, financing firms and Tianjin Port Holdings Co Ltd to make it easier for parallel auto import companies to conduct business.
Shan said a draft of new policies to open the way for parallel auto import companies is currently open for public opinion. A final version will be released in the near future.
The district will also set up a chamber of commerce for parallel auto import businesses to issue regulations and establish industry standards.
"Tianjin's moves will benefit the development of the parallel auto import market," said Jia Xinguang, senior analyst with the China Automobile Dealers Association, adding that the chamber of commerce would protect the interests of parallel auto import businesses.
Continued growth
Parallel auto imports have existed in China in the gray for years. At the beginning of last year, China green-lighted the gray market for the Shanghai FTZ in an attempt to lower the high prices that Chinese customers pay for imported cars.
Later last year, pilot parallel auto import programs were introduced to the three new FTZs in Tianjin as well as Fujian and Guangdong provinces. But sales did not meet expectations due to limited choices of foreign cars, competition with automakers and their authorized dealers, and poor after-sales services from Chinese auto dealers.
In a Xinhua News Agency report last week, Tianjin imported 79,000 vehicles through parallel channels in 2015, accounting for 74 percent of total parallel auto imports in China that year.
Jia said he predicts that sales of parallel auto imports will continue to grow. The city's long history of selling parallel imported cars, coupled with its tariff-free zone, are the main reasons why Tianjin is buffered from lags in auto sales compared to other FTZs, he added.
Economic Daily's website reported on Thursday that a national policy, in which dealers of imported cars for sale in the Chinese market are required to pay all taxes at ports, may change in March.
Tianjin is the only FTZ that does not force dealers of imported vehicles to immediately pay taxes, ce.cn said.
Jia said he believes the tariff-free policy will positively affect not only parallel auto import businesses, but the entire import auto market because it will reduce dealers' financial burdens.
Last year, parallel imports of cars accounted for about one-tenth of the country's total vehicle imports.
According to data by Sinomach Automobile Co Ltd and China Automobile Trading Co Ltd, China imported 1.06 million vehicles in 2015, a 25-percent decline year-on-year, the first slump after 10 consecutive years of growth.
duxiaoying1@chinadaily.com.cn