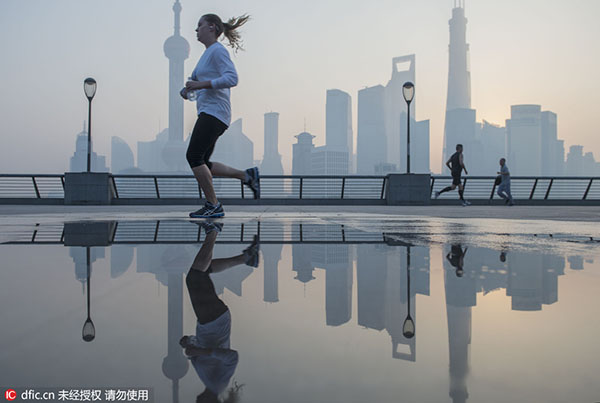 A jogger runs on the Bund after a rain with the skyline of skyscrapers and high-rise buildings in Shanghai. [Photo/IC]
China 'making progress' in economic transition, but high corporate borrowing could spell trouble
China is making progress on its economic rebalancing, but rising corporate debt could pose risks to growth in the medium and long term if the debt problem isn't solved, a senior official at the International Monetary Fund suggested in Beijing on Tuesday.
"China is making progress in many dimensions on its transition to a sustainable growth path, and the near-term outlook has turned more buoyant due to recent policy support," said David Lipton, the IMF's first deputy managing director, after a discussion with top Chinese officials and regulators in the financial sector.
Lipton said the moderate slowdown in China's growth in the first quarter is a natural result of the country's necessary transition, and it's good enough compared with many other economies.
Addressing recent depreciation pressure on the renminbi that sparked concerns of global investors, Lipton said the exchange rate is becoming "more flexible and market-based" as there has been substantial liberalization of financial markets.
Lipton said the government should achieve an effective floating range within the next couple of years.
What it needs to be concerned about to ensure medium-to-high growth in the long run is the risk of rising debt, Lipton said.
"The corporate debt load, which is at 145 percent of GDP, though still manageable, is high and rising fast," Lipton said, adding that China needed a comprehensive plan and concrete action-especially for State-owned enterprises-to avoid serious problems in the long run.
His observations were in line with those of Chinese authorities who have been aware of the challenges. An unidentified "authoritative figure" who published an article in People's Daily earlier in May said that soaring debt levels could trigger a "systemic" financial crisis if efforts are too weak.
China has since launched a series of initiatives to whittle back the bad debt sitting on bank balance sheets, including securitization and debt-for-equity swaps.
Facing possible vulnerabilities, officials have adopted plans designed to settle growth at a sustainable level.
Zhang Tao, deputy governor of the People's Bank of China, speaking at a financial forum in Shanghai on Sunday, signaled a willingness to let zombie companies die and let the market decide which ones should be shut down.
Li Pumin, spokesman for the National Development and Reform Commission, pledged on Tuesday to take more steps to address excess capacity in the coal and steel sectors in an effort to spur restructuring.