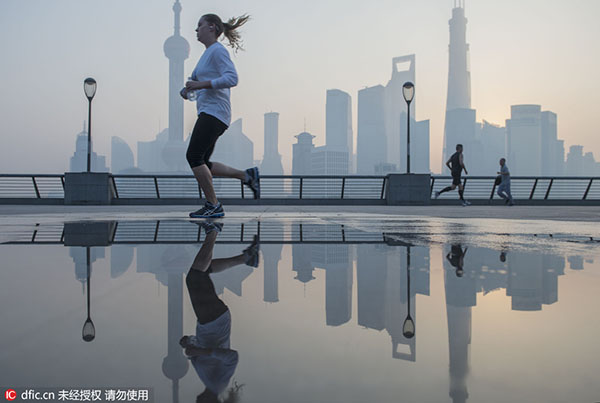 A jogger runs on the Bund after a rain with the skyline of skyscrapers and high-rise buildings in Shanghai, Nov 7, 2013. [Photo/IC]
Despite debt levels remaining high, China is unlikely to witness a sharp economic slowdown or trigger any financial shock, said global rating agency Moody's on Wednesday.
The message is expected to lift some of the concerns that rose after the agency placed a negative outlook on the country's sovereign rating, while projecting China's rebalancing to have an encompassing impact on Asia Pacific, ranging from trade, tourism to financial flows.
China retains its Aa3 rating, Moody's fourth highest grade, but the agency assigned the negative outlook in March, due to "rising government debt burden and sizable contingent liabilities".
However, Moody's reckons shocks are unlikely to the world's second-largest economy in its report released Wednesday. "We do not expect a significant decline in growth, increase in unemployment or an imminent financial shock."
China's domestic credit accounts for 196.8 percent of the GDP, surging 53.2 percentage point over the past five years, while its external debt rose by 6.4 percentage point to 15.6 percent of GDP, according to the report.
The agency noted that China's household debt, accounting for 39.9 percent of GDP, remains modest, leaving plenty of room for further consumption growth, as the country's middle class swells in number.
"China's authorities are using both monetary and fiscal policy to support the economy," said Moody's associate managing director Atsi Sheth, leading author of the note.
The agency expects government debt to rise slightly from 40.6 percent of GDP in 2015, as China increases its deficit target to 3 percent of GDP. The off-budget spending is also likely to rise to prop up the economy.
"Reducing overcapacity in traditional industrial sectors and opening the capital account do involve economic and financial risks," said analysts in the note, adding that the government is expected to give priority to growth and stability.
Looking ahead, the sovereign credit of countries across Asia Pacific will in part depend on how they respond to opportunities and challenges offered by China's rebalancing, noted the report.
Moody's said Chinese tourist arrivals in many countries across the region are climbing, while Australia and New Zealand could see growing Chinese appetite for high-value-added agricultural products. Australia is also well positioned to profit from rising Chinese demand for education and business services.