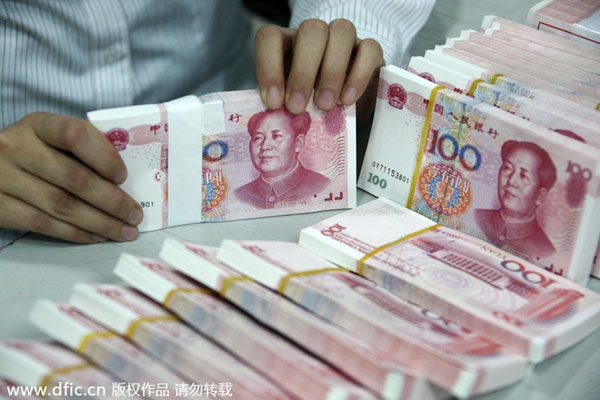 A clerk counts yuan bills at a bank in Huaibei, East China's Anhui province. [Photo/IC]
China has accelerated debt-for-bond swaps for local governments, adding more than 2 trillion yuan ($306.7 billion) since the start of the year, more than half of last year's 3.2 trillion yuan, reported the Economic Information Daily on Friday.
Of the total 2.2 trillion yuan bonds raised by local governments since the start of the year, over 90 percent were debt-for-bond swaps, according to the paper, as China aims to ease financing burden for local governments.
The issuance this year comes from a soft start, according to the newspaper, as local governments issued a total of 955.4 billion yuan bonds in the first quarter, slower compared to the full-year quota of 5 trillion yuan.
Twenty-nine provinces and cities have announced their plans to raise municipal bonds so far, said the newspaper, adding that most chose to kick off their issuance in April and May.
The program, which involves shifting local government liabilities into bonds with lower interest and longer maturities, enabled the restructuring of 3.2 trillion yuan debts last year. Another 600 billion yuan was raised as new bonds.
Global rating agency Standard & Poor's and Moody's switched the country's credit outlook from "stable" to "negative" earlier the year, while maintaining its rating grade, due to "rising government debt burden and sizable contingent liabilities".
Moody's expects government debt to rise slightly from 40.6 percent of GDP in 2015, as China increases its deficit target to 3 percent of GDP.