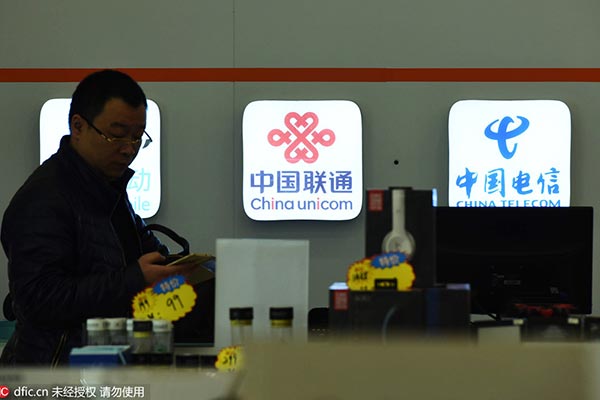 A Chinese customer tries out smartphones in front of logos of (from left) China Mobile, China Unicom and China Telecom at a mobile phone store in Hangzhou city, East China's Zhejiang province, January 13, 2016.[Photo/IC]
Measures taken by telecom operators to improve internet speed and lower prices saved subscribers 40 billion yuan ($6.15 billion) in 2015, the
Beijing News
reported on Monday citing an official with the telecom regulator.
In reply to many consumers complaining that they have not seen any change either in speed or cost, Wen Ku, director of the telecom development department under the Ministry of Industry and Information Technology (MIIT), said that since there are many subscribers, every user only saves 2.6 yuan per month. So they are unable to feel the change.
Wen added people should evaluate the effect from the perspective of longer period.
Last April, Premier Li Keqiang made it clear that the country's internet services were "too slow" and that they cost "too much". His comments prompted the MIIT, the sector's regulator, to announce plans to cut mobile data charges by a third before this year.
"Besides lowering the overall fee, users should see the obvious decline in unit price," Wen said. In 2015, the unit price of mobile broadband was reduced by 60 percent, meanwhile, mobile data traffic that people used increased by multi-fold.
Wen also predicted that users of fiber broadband will account for 80 percent of total broadband users in 2016, ranking first in the world.
On August 1, 2013, the State Council issued the "Broadband China" Strategy and Implementation Plan, aiming at strengthening the strategic guidance and systematic deployment and pushing forward the rapid and healthy development of China's broadband infrastructure.
According to the plan, half of the Chinese households are expected to use fixed broadband, and fiber-to-home services will cover all urban areas by 2015. The penetration rate of fixed broadband will reach 70 percent by 2020.