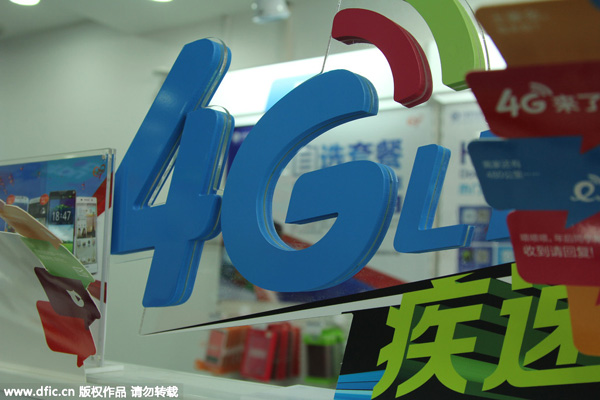 A signboard of 4G is seen at a branch of China Mobile in Shanghai, Dec 28, 2013. [Photo/IC]
The Ministry of Industry and Information Technology on Thursday officially issued a telecom license to China Broadcasting Network Ltd (CBN), making it the nation's fourth telecom operator.
The ministry said in a statement on its official website that it has issued a basic telecom business license to CBN on Thursday, permitting the company to operate internet domestic data transmission business and domestic telecommunication infrastructure service business.
The ministry also allows China Cable Television Network Co Ltd, a subsidiary of CBN, to operate the above two businesses. The purpose is to promote the nation's progress in three-network convergence, which aims to combine cable television, telecommunications and the internet into one seamless chain, and promote the competition in the market.
This approval means CBN has become the nation's fourth telecom operator after China Mobile Communications Corp, China United Network Communications Group Co Ltd and China Telecommunications Corp.
CBN said it will strictly comply with the related laws and regulations and carry out the social responsibility and obligations of enterprise, quicken the integration of cable TV network.
The company was established in 2014 with registered capital of 4.5 billion yuan ($691.16 million).