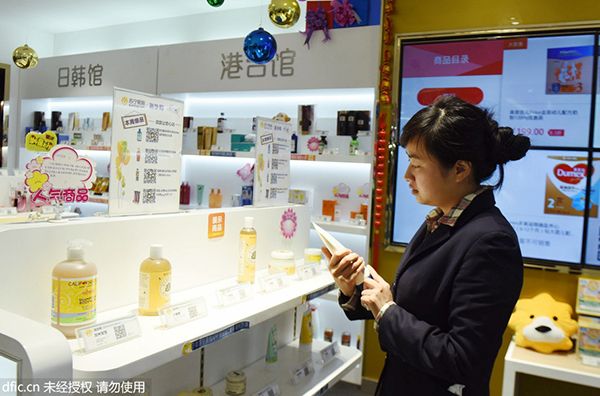 A customer shops at an experience store of a cross-border e-commerce operator in Hangzhou, capital of East China's Zhejiang province, April 7, 2016. [Photo/IC]
New tax policy on foreign goods, which came into effect on April 8, has triggered mixed feelings among e-commerce operators on how to retain their competitive edge.
Under the new rules, retail goods purchased online will no longer be treated as personal postal articles but as imported goods, which carry tariffs, import VAT and consumption tax.
Personal postal articles carry a tax of 10 percent, if they are worth less than 1,000 yuan ($154).
Import VAT and consumption tax vary on goods, but combined they are almost certain to exceed 10 percent, though e-commerce consumers will enjoy a 30 percent discount on their taxable amount.
The tariffs for all goods are set at zero, for now, but the new policy only allows a maximum of 2,000 yuan per single cross-border transaction and a maximum of 20,000 yuan per person per year. Goods that exceed these limits will be levied the full tax for general trade.
Let's take a look at some of the responses from major e-commerce platforms on the new rules.
Wu Di, deputy manager of the logistic arm of Vip.com:
The new rules will affect low-price cosmetics the most. The tax rate for such products has increased from zero to about 47 percent. They used to be very popular on cross-border e-commerce platforms, but now operators need to make more efforts in product picks.
Cross-border e-commerce sites should introduce premier products with low prices but high technical content and added value to China, compelling Chinese manufacturers to improve R&D and quality and in turn boosting the country's industrial upgrades and supply-end reform.
We believe that the tax adjustment will serve like a "traffic rule" for our sector, ensuring a brighter development provided everyone follows the rule.