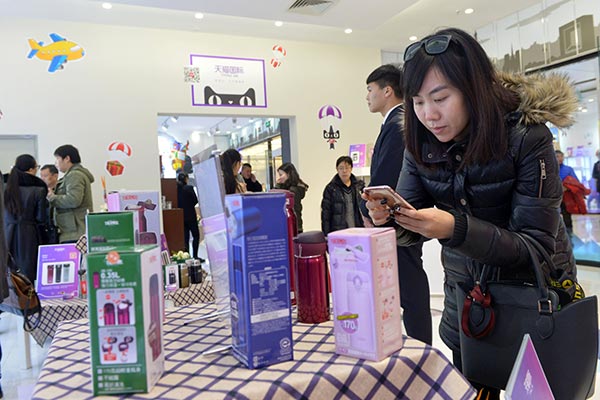 A customer buys imported goods at the Tmall cross-border O2O experience center at the China (Tianjin) Pilot Free Trade Zone. [Photo/Xinhua]
Xing Yue, deputy manager of Tmall International:
Besides tax rules, regulators should launch a complete and systematic set of policies for the cross-border e-commerce industry. Policies should be predictable and consistent, ensuring more respects for the new sector.
Qiu Huang, manager of JD Global Purchase:
Price arbitrage, policy arbitrage and confidence arbitrage are the main reasons behind the booming cross-border e-commerce. The new rules have limited impact on the latter two, but will surely impact prices.
In the short term, customers' shopping enthusiasm will diminish because of the price rise, but in the long term, sales will maintain healthy growth. Considering there are still more price advantages in cross-border online shopping compared to traditional retailers and importers, as long as the cross-border e-commerce can offer great user experience and logistic experience, the general outlook of the whole industry will be bright.
Zeng Bibo, CEO of Ymatou.com:
The new policy has positive influence on reducing logistic costs by 30 percent. In the past, international express can only go through several line ports, but now the new rules grant goods to enter from the nearest port, which could save logistic costs.
Wu Shengxin, vice-president of Xiu.com:
According to the new policy, tax rates for some goods such as textile will fall instead of rising. The price increase is mainly faced by goods like food, health care products, and baby products.