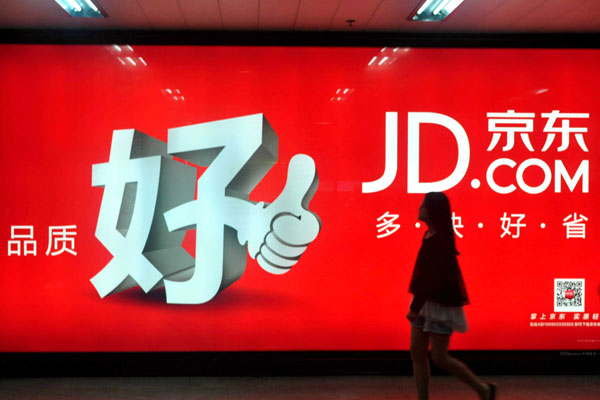 An advertisement for e-commerce retailer JD.com Inc in Shanghai. [Photo/China Daily]
SHANGHAI - Chinese online retailer JD.com will work with Japanese logistics firm Yamato to speed up cross-border delivery of goods bought on JD's overseas online marketplace, the company announced Wednesday.
The cooperation with Yamato will allow goods shipped from Japan to clear through customs faster. Japanese products bought on JD's overseas online marketplace will be delivered to consumers in China four days after payment is made, JD said in a statement.
The company launched JD Worldwide a year ago amid competition with rivals including Alibaba to cater to Chinese consumer's craving for quality products ranging from luxury clothes and accessories to baby formula milk powder and snacks, sold in other countries.
A number of foreign retailers have also signed up with JD and Alibaba to sell their products to Chinese consumers through such cross-border markets. Some products are shipped from foreign countries while others were delivered from bonded warehouses in China.
Japanese retailer Rakuten also set up an outlet on JD Worldwide. Alibaba's Tmall global marketplace houses Costco and Amazon.
While dwarfed by Alibaba's tremendous gross merchandise volume, JD has managed to maintain its edge in a proprietary logistics network that delivers customers' order faster. The cooperation with Yamato seeks to extend that strength to cross-border deliveries.