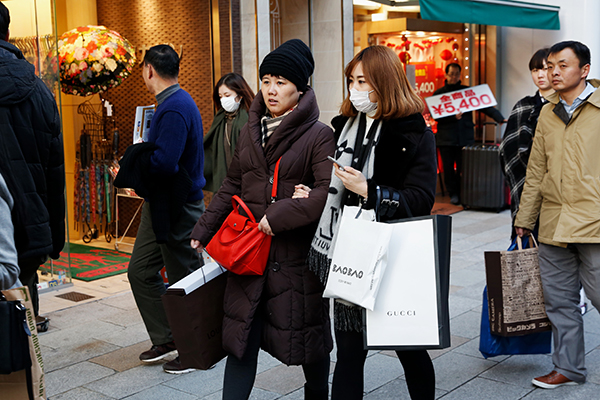 Chinese tourists in Tokyo's Ginza shopping district in Japan during the Lunar New Year Holiday. [Photo provided to China Daily]
Being in the later stages of my pregnancy, my first destination upon arrival in Japan for a holiday with my husband during the Spring Festival was neither a tourist spot nor a hotel.
Instead, my first port of call was a Lawson convenience store at the airport, a savior for those needing extra calories to damp down their hunger from time to time.
Lawson surprises me every time I go to Japan, with its innovative ranges of meals, snacks and sweets. However, what surprised me even more this time was the presence of Alipay in the store, the online payment arm of Chinese e-commerce giant Alibaba Group Holding Ltd.
Online payment services such as Alipay are now so popular in China that I, like most of my friends, barely take any cash while shopping, no matter whether in a supermarket for groceries or dropping by a cafe for a latte, but I never imagined that I would enjoy such convenience abroad.
So while queuing up at the checkout, I connected my smartphone to the Internet and completed the payment for my sushi roll and yogurt in just two seconds.
The salesman told me that Alipay had only been made available at the store for a few weeks, but it was already a roaring success with visiting Chinese tourists.
I told him that the reason it was so popular was that tourists would prefer another method of payment because they generally only have large-denomination bank notes upon arrival.
Indeed, he noted that scanning the payment code from a smartphone is also more convenient than taking a 10,000 yen ($88) bill and giving the customers a handful of coins in change.
I searched the Internet while waiting for a taxi, and found out that Alipay mobile payment has been available at Lawson convenience stores in Tokyo's Narita Airport since Jan 25, and would expand to thousands of convenience stores throughout Japan in the near future.
In addition, the online payment platform has also partnered with Japanese department store Abeno Harukas Kintetsu to make payments more convenient to attract more Chinese customers at four of its Osaka department stores.
Japan has become a top travel destination for Chinese tourists in recent years with its matured travel industry, with nearly 5 million Chinese visitors heading to Japan in 2015, twice the number in the year before.
Our peers have also outstripped travelers from other countries in terms of expenditure, with each one spending $2,446 on average.