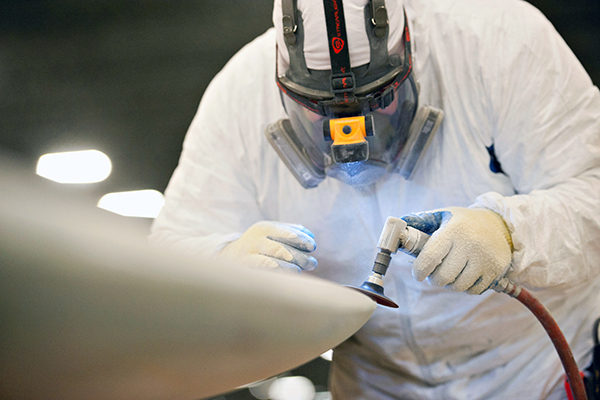 An employee works on the exterior of a wind turbine blade made for General Electric Co's renewable energy business at TPI Composites Inc's manufacturing facility in Newton, Iowa. [Photo/Agencies]
Company to invest another $10 billion in projects worldwide
General Electric Co, a global diversified technology, services and manufacturing conglomerate, will further fuel its renewable energy business in China through consistent investment as the country is pushing hard for more shares of renewables in its overall energy mix.
GE, which has already invested $15 billion in research and development of the global clean-energy market since 2005, plans to add another $10 billion in investment in renew-ables over the next few years.
China, already the fifth top market for GE, will be a major part of the blueprint as the country aims to have 15 percent of its power generated from non-fossil energy, which is alternative sources of energy that don't rely on fossil fuels such as coal, oil or natural gas.
Fifteen percent of the country's energy mix by 2020 will generate an additional investment as large as 2.3 trillion yuan ($353 billion), according to an industrial document prepared for the 13th Five-Year Plan (2016-20) by the country's energy watchdog-the National Energy Administration.
"China, the world's largest market for renewable energy, is still growing at a fast pace, so we will continue to invest in that market, looking for more growth and market share," said Jerome Pecresse, president and chief executive officer of GE's renewable energy division, which ranks No 1 in renewables application.
Pecresse did not release the investment figure for the Chinese market as the company does not break down investments on a country basis.
GE's renewable business in China will focus on hydro and offshore wind-power projects across the country, especially in the southern areas.
The company accounts for 20 percent of the total Chinese installed capacity of large hydro projects. Pecresse hopes to further expand its hydro business as untapped potential is vast in southern and south-western China.
His remarks came after GE separated its renewable energy business from its power division, following the acquisition of the France-based Alstom SA's energy business.
The new unit expands GE's hydro footprint in China with contracts for hydro turbines and generators covering 53 gigawatts, out of which approximately 40 gW are already in commercial operation.