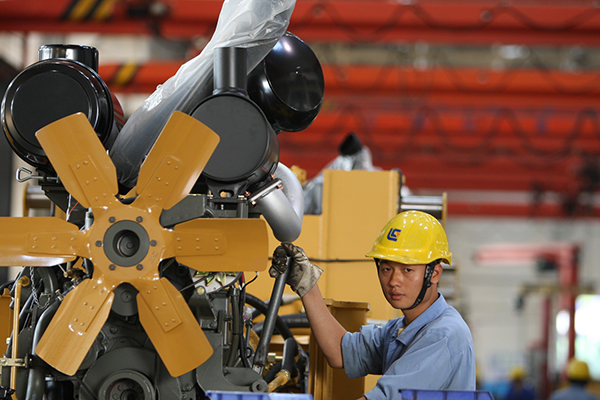 A workshop of Guangxi LiuGong Machinery Co Ltd in Liuzhou. [Photo provided to China Daily]
Guangxi LiuGong Machinery Co Ltd, one of the world's largest wheel loader makers, is considering more merger and acquisition opportunities in the next few years, as it seeks to expand globally.
"We don't have particular targets for now, but we are constantly on the lookout for suitable acquisitions, as we seek to increase our global presence," said Yu Chuanfen, LiuGong's vice-chairman.
Revenue from overseas sales reached 2.6 billion yuan ($400 million) last year, accounting for around 35 percent of the company's total sales.
Yu expects that figure will increase to 40 percent by 2020, with overseas revenue rising to 4.5 billion yuan.
The past four years have been difficult for most Chinese heavy machinery makers due to an industry downturn, and they are realizing that having innovative and high-end products is essential in order to survive the tough market conditions.
Against such a backdrop, LiuGong, based in Liuzhou in the Guangxi Zhuang autonomous region, is shifting its focus to overseas markets to offset domestic overcapacity.
This process started with the establishment of the company's first overseas factory in India in 2009, where its five-ton wheel loader had already achieved a 60 to 70 percent market share by 2007.
Though emerging markets remain a priority for LiuGong, the company is eager to expand its business in some well-established markets such as Europe, the United States and Japan, where it plans to build both brand recognition and distribution channels.
In 2012, the company, listed at the Shenzhen Stock Exchange, struck several deals to expand its product portfolio and global network, which include the 335 million yuan acquisition of Polish state-owned building equipment manufacturer HSW Corp and its distribution subsidiary Dressta.
Dressta's marketing network covers 100 countries and regions, and LiuGong obtained the global marketing network along with HSW's production lines. The deal enabled the export of 1,800 machines to Europe last year, according to the company.
LiuGong's most recent major global inroads was to establish a manufacturing plant in Brazil in March 2015, in an effort to penetrate the burgeoning South American market.
"I think Brazil has the potential to become our second 'local' market after China, a market that could serve as a springboard to spread to other countries in South America," Yu said.
The factory is expected to assemble excavators and road rollers next month at the earliest and start producing loaders in the second half of this year.