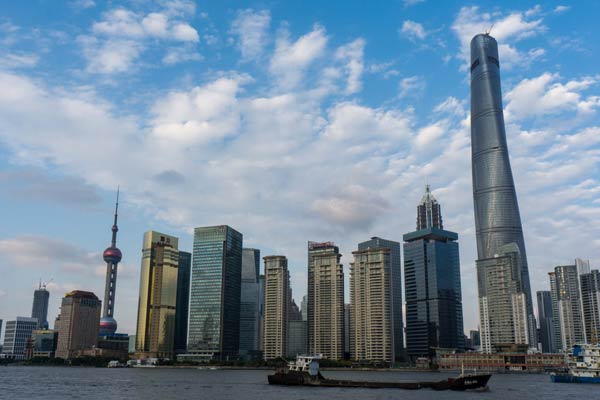 Shanghai Tower (the highest in the picture), a new landmark of Shanghai's financial hub Lujiazui, is nearly complete. Many RICS members have been involved in the project from the beginning.[Provided to China Daily]
Shanghai aspires to become one of the world's top financial centers by 2020 through further opening up and financial innovations, said Zheng Yang, director of the Shanghai Financial Service Office, during a news conference on Monday.
Shanghai will strive to become a global financial market with a focus on renminbi-denominated financial products and by being equipped with a strong capacity to deploy financial resources by 2020, said Zheng.
Zheng said the next five years will be a key stage for Shanghai to fulfill the goal to become an international financial hub, and the city will adapt to the new normal and strengthen financial services to support the country's supply-side reforms.
In the past five years, Shanghai's financial sector has seen fast growth and has become a major driver of the city's economic development.
In 2015, Shanghai's financial sector realized combined growth of 405.22 billion yuan ($62.24 billion), 22.9 percent higher year-on-year, which contributed 16.2 percent to the city's GDP.
The direct financing size of Shanghai financial markets through various channels, including the equity market and bond market, reached 9.2 trillion yuan in 2015, which was about three times that of 2010.
Shanghai has also become a hub for international financial institutions. By 2015, 429 foreign financial institutions were operating in Shanghai, accounting for 30 percent of the city's combined number of financial institutions.