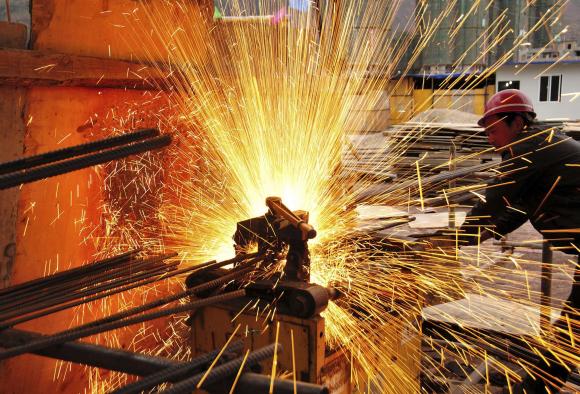 A worker welds at a construction site in Yiliang, Yunnan province, February 28, 2015.[Photo/Agencies]
BEIJING - China's economic growth will remain subdued in the first quarter of 2016, expanding by around 6.7 percent before gradually stabilizing in the second quarter, a government think tank forecast on Monday.
The predicted growth would be a further slowdown from the 6.8-percent expansion seen in the previous quarter, due to slower industrial production and investments, and weak consumption and exports, according to a report released by the National Academy of Economic Strategy.
The institution expects consumer prices to grow by around 2.2 percent in the first three months.
However, with government pro-growth policies gradually bedding in, it's likely that the economy will remain "on a stable track," the report said.
On the back of stronger fiscal and monetary support, the academy forecast growth in the second quarter would pick up at round 6.8 percent.
To arrest the economic downturn, China has cut interest rates and the reserve requirement ratio of banks several times since 2014. As authorities push supply-side structural reform, the academy expects further easing to lower financing costs for the real economy.
China's economic growth rate target has been set at 6.5 to 7 percent in 2016, with an average annual growth rate of at least 6.5 percent through 2020.