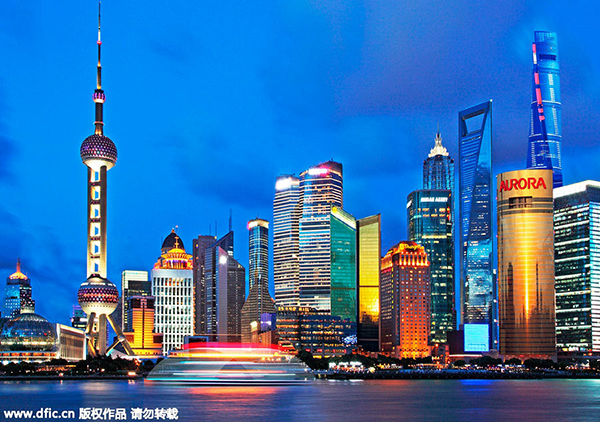 The file photo shows the Shanghai Tower, China's tallest skyscraper, in Lujiazui, the financial and trade zone in Shanghai. [Photo/IC]
Surge of buyers purchased additional homes before new measures took effect on Friday
Lin Hong feels lucky to have followed the home-buying rush because she was able to complete the purchase of her family's second home the day before a new policy reining in Shanghai's property market took effect on Friday.
"It is a narrow escape, otherwise, we would have had to pay the 70 percent down payment that the new rules required, which is hardly possible for us," said the 31-year-old.
Transactions for more than 1,700 new apartments were completed on Thursday, according to National Business Daily.
"The transaction system was overloaded on Thursday afternoon due to the sudden surge in applications, and we had to extend the transaction deadline from 9 pm to midnight after the system was restored," said Gu Jinshan, director of Shanghai Housing and Urban-Rural Development Management Committee.
According to the new rules, local families with one property will have to pay a minimum 50 percent down payment for a second home, with the down payment raised to 70 percent if the house is either above 140 square meters or priced above 4.5 million yuan ($692,000) located within the inner ring.
The home-buying barrier is even higher for families with no permanent residency, because they are required to pay tax for at least five years in a row before buying a property in the city, compared with the previous requirement of two years in total.
The new policy won't impact first-home buyers and stable nonlocal residents, according to Gu.
Since the second half of last year, there has been a surge in Shanghai's property prices and transaction amounts, and the fever has became more serious in early 2016. For example, the average price of properties in the Daning area of the new Jing'an district soared 160 percent over last year, said Gu.
"The property boom has a lot to do with factors including loosened policies for mortgages, a deed tax cut, limited supply, the return of investing and speculative demand, as well as irregular practices of some property agencies," he explained.
The daily average number of new home sales stayed at 800 units over the past week, well above the 170 average last March, National Business Daily said, citing China Index Academy data.
Shanghai's prime home prices recorded a 14 percent growth year-on-year in 2015, the third highest among global cities, after only Vancouver (24.5 percent) and Sydney (14.8 percent), said the Wealth Report 2016, which was published by property consultancy Knight Frank and Bank of China International Limited.
"The luxury home market remains robust. In the firsthand residential market, 255 luxury residential units worth over 20 million yuan each were sold in the first two months of 2016, a significant 222 percent year-on-year increase. In the same period, the average luxury home transaction price posted a 5.7 percent growth," said Regina Yang, director and head of research and consultancy at Knight Frank Shanghai.
"Many people have moved their home-buying schedule forward due to the recent home price sensation. As a result, we expect home trading will see a 30 percent plus drop in April," said Lu Wenxi, a senior research manager from Centaline Shanghai.
The municipal government will continue to increase the residential land supply, and offer more small and medium-sized apartments, Gu said.