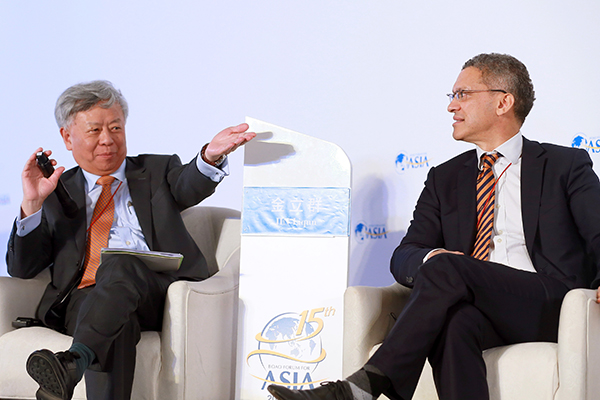 President of the AIIB Jin Liqun (left) and Leslie Maasdorp, vice-president and chief financial officer of the NDB, at the Boao Forum for Asia in Boao, Hainan province. [Photo/China Daily]
The New Development Bank, established by the BRICS countries of Brazil, Russia, India, China and South Africa, will sell its first bond by the second quarter of this year, the bank's vice-president said.
Leslie Maasdorp, vice-president and chief financial officer of the NDB, said the bond, denominated in renminbi, will be worth 3 to 5 billion yuan ($460-767 million) and will be sold in China's onshore interbank bond market.
The issuance comes on the heels of the July establishment of the bank, which became operational in late February and is headquartered in Shanghai. The bond represents a major step forward for China's bond market and the internationalization of the yuan.
"We chose China because the renminbi value is much more stable (compared with the currencies of other BRICS nations). China has a deep, liquid bond market," Maasdorp said.
The bank has secured an AAA-rating from two Chinese credit rating firms that will ensure low funding costs. Maasdorp also said the bank will continue to issue bonds in both the yuan and the US dollar, with plans for up to $1.5 billion in bonds over the next two years. Issuance of bonds in other BRICS currencies has not been considered in the short term.
Proceeds from the bond issue will finance an initial batch of lending for green-energy projects in hydropower, wind power and other renewable energies in each of the BRICS countries, the bank said in an earlier statement. The first batch of projects will be announced next month, Maasdorp said.
The bank will keep a portion of the proceeds to finance projects in China, and convert the rest into US dollars, and lend them to other countries.
"It's not only about lending to infrastructure construction in emerging markets, we are also looking to make our business models more efficient, and how we can fast-track loan approvals," he said.
Unlike established multilateral development banks, the NDB features a "lean, agile" structure, he said. And while it takes about two years for MDBs to complete a project, from design to loan approval, the NDB plans to cut that time to six months through the use of exclusive loans to sovereign government-guaranteed projects, Maasdorp said.
Jin Liqun, president of the AIIB, said in a separate statement that emerging MDBs are not looking to overtake existing ones and are complementary.