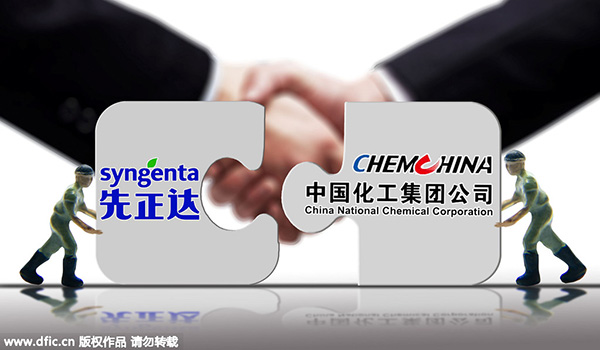 Swiss agriculture company Syngenta AG said on Friday that its planned sale to State-owned conglomerate China National Chemical Corp poses no food safety or national security issues. The company was responding to US lawmakers after they raised concerns over the $43 billion takeover.
"We welcome a full review of the transaction by the US government and will continue to work closely with all of the agencies as we move forward in the review process," a Syngenta spokesman was quoted as saying by newswire Dow Jones.
"We do not believe the proposed transaction raises any food safety or significant national security issues."
Political headwinds in Washington started circling ChemChina's proposed acquisition, which could become China's biggest ever foreign takeover, after a US senator from a major farm state suggested this week the authorities examine any potential food safety concerns from the transaction.
Senator Charles Grassley of Iowa, a Republican member of the Senate committee on agriculture, nutrition and forestry, said a bipartisan group of senators would seek a formal role for the US Agriculture Department as the Committee on Foreign Investment in the US, or CFIUS, carries out a national security review of the ChemChina-Syngenta deal.
Lawmakers want food security and safety implications analyzed, Grassley said in a Wall Street Journal story published on Thursday.
A ChemChina acquisition of Syngenta would also give China even more control over the global market for genetically modified corn, soybean and other seeds than it already has, he said.
In a radio interview broadcast on Wednesday, Grassley said he was concerned ChemChina's bid for Syngenta would give Beijing ownership of a vital part of the US agricultural infrastructure.
"Because the food and agriculture sectors are part of the nation's critical infrastructure, this merger raises questions about the potential national security implications," he said.
Earlier this month, US Agriculture Secretary Tom Vlasik said he too had reservations about the transaction and its impact on US competitors trying to get into the Chinese market.