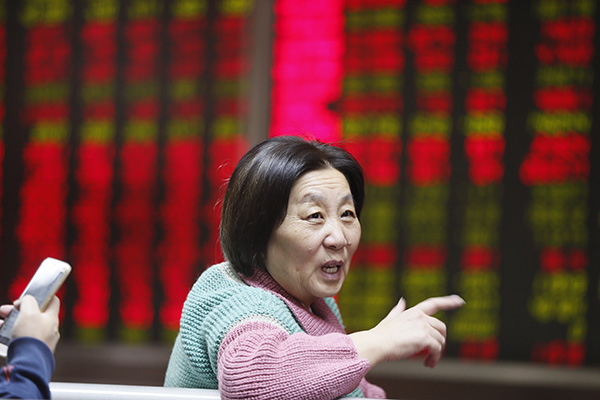 An investor at a brokerage in Beijing on Dec 7, 2015. Experts said the A-share market will be more liquidity-driven next year as policymakers in Beijing will launch more measures to stimulate the economy. [Cao Boyuan/China Daily]
Analysts predict spillover effect from European, Asian and US stock exchanges will not be substantial
After a turbulent week in the global markets, investors will be keeping a close eye on the reopening of the Chinese stock market on Monday after the weeklong Lunar New Year holiday.
The sharp volatility in global markets has sparked anxiety among Chinese investors, who fear that the A-share market may continue to fall, adding to the 21 percent loss already seen this year.
Last week, Hong Kong's Hang Seng Index fell 5 percent, heading toward the lowest level since June 2012, while Japan's Nikkei tumbled 11 percent, the biggest weekly loss in eight years.
In the United States and Europe, investors have been dumping shares over concerns about global growth, weakened corporate earnings and risks in European banks.
The Dow Jones industrial average was down 1.43 percent last week, while the United Kingdom's FTSE 100 dropped 2.4 percent and Germany's DAX declined by 3.43 percent.
While it is possible that the A-share market may feel the spillover effect, the pressure from overseas markets on China is no likely to be substantial, analysts said.
Xue Hexiang, a strategist at Huatai Securities, said the A-share market is capable of quickly digesting negative factors from overseas markets and will gradually get back on track, guided by the domestic economy.
China on Monday will release January economic data including the balance of trade and loan growth, which could offer investors some insights into the Chinese economy since the beginning of 2016.
To allay investor concerns over the depreciation of the yuan and possible capital flight, Zhou Xiaochuan, governor of the central bank, defended the value of the Chinese currency and said that there is no basis for continued depreciation.
The Chinese central bank will not "allow speculative forces to dominate the market sentiment" and will use a flexible exchange rate regime as a "sponge shield" to protect against speculation, Zhou said in an interview with Caixin, a Chinese business magazine.
Wang Hanfeng, a strategist with China International Capital, said in a research note that there is no need for investors to be overly pessimistic given that the A-share market already fell substantially before the holiday and many investors have trimmed their holdings with a light position.
"The value of the renminbi, one of the market's biggest concerns, has also been stabilizing and shown signs of strengthening during the holiday," Wang added.
Analysts say that investors' anticipation for detailed reform measures ahead of the annual meeting of the country's top legislature in March could be pivotal to the A-share market.
Additional monetary easing, including possible cuts to the banks' reserve requirement ratio to offset the economic slowdown, could also be seen as a positive factor for the stock market, analysts said.