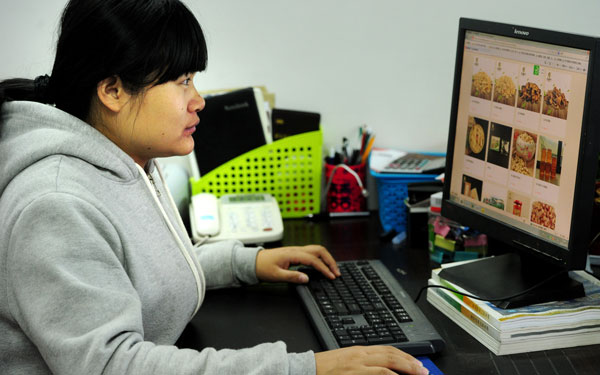 Tang Qiaoqing, a worker at the Wangjiazhen township e-commerce service station, puts some local agriculture products up for online sales in Wuyi, Zhejiang province. [Photo provided to China Daily]
Until 2014, farmer Yang Kuanmin of Luochuan county, Shaanxi province, West China, used to earn around 80,000 yuan ($12,168) per annum growing and selling apples. But, last year, his story of 10 years changed, and his annual income surged by a staggering 50 percent to 120,000 yuan, when he jumped on the e-commerce bandwagon.
"Getting online is so good for sales. You can sell your fruit to customers around China," he said.
This year, farmers such as Yang were swept off their feet by e-commerce when Alibaba Group Holding Ltd held the Ali Spring Festival Shopping event from Jan 17 to Jan 21.
In Yang's hometown, about 90,000 kilograms of apples were sold online in just 11 hours during the five-day event, the third such shopping festival held by Alibaba in less than three months, the other two being the events on Nov 11 (or 11-11, Singles' Day) and Dec 12 (or 12-12).
The event helps hardworking farmers to earn some extra income. It also offers city dwellers genuine farm produce from their hometowns. Alibaba hopes the event will attract more farmers in coming years.
Jack Ma, executive chairman of Alibaba, said the event could "enlighten" farmers about rural e-commerce and the new model of modernization in rural China.
"It (e-commerce) is an opportunity for the new generation of farmers in China. Many farmers had to leave home and work in cities to make a living. Now they can set up their own businesses without leaving their farmland," he said at an event.
He further said farmers can use big data technology and Internet to predict demand for certain commodities and decide not only what they would grow next year but their buyers.
He predicted at least 1 million farmers will return to their hometowns from cities and set up their own online businesses. "As a matter of fact, many of them have already sold various kinds of farm produce online."
Extremely fruitful sales of Luochuan apples during the Ali Spring Festival Shopping are part of a larger pattern. The top three sales items were the gift pack consisting of agricultural produce from Guizhou province, the Spring Festival dinner pack containing sausages and preserved meat from Guizhou, and oranges from Gannan.
Zhu Jun, a manager at Rural Taobao, said strict quality control contributed to the popularity of online sales of farm produce. "Some of the local governments have set up funds worth 5 million yuan each as a way to endorse their farm produce. If online shoppers receive poor-quality commodities, the fund will compensate them."
Wang Xiaoxing, an analyst with the Beijing-based Internet consultancy Analysys International, said urban residents are concerned about food safety, so they prefer to buy good-quality farm products directly from farmers.
"But ensuring food, after the long transportation, retains its good quality at the time of delivery to the consumer is still a challenge," he said. "Farm produce are not like standardized industrial products. But it is important to set up a national standard to rate the quality of farm produce sold online so that the business can truly take off."