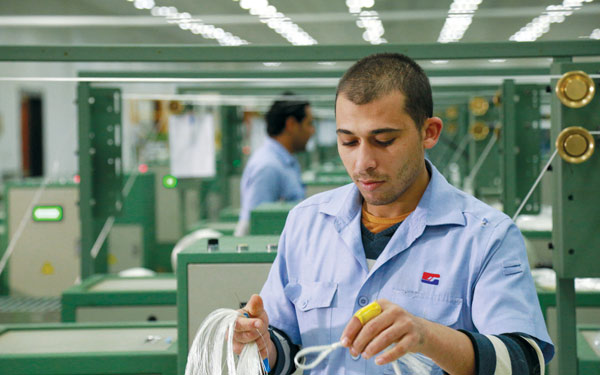 Jushi Egypt, set up by a Chinese fiberglass manufacturer, paid $17.1 million in taxes to the local authorities last year. [Photo provided to China Daily]
Preferential policies and opportunities generated by the Belt and Road Initiative proving a major draw
More Chinese companies are setting up shop in Egypt or expanding existing operations there to take advantage of opportunities presented by the Belt and Road Initiative, as well as the nation's prime location and rich resources, executives said.
While such a move helps Chinese firms cut costs, due in part to preferential trade policies offered to Egypt in Europe, the Middle East and sub-Saharan Africa, it also contributes to Egypt's industrialization and creates jobs.
Jushi Group, a Chinese fiberglass manufacturer, set up a local subsidiary, Jushi Egypt, in January 2012. Located in the China-Egypt Suez Economic and Trade Cooperation Zone, the company has an annual output capacity of 80,000 metric tons. The plant cost $223 million.
According to Yang Jixiang, deputy general manager, the subsidiary exported 95 percent of its products-valued at about $84 million-in 2015 and paid about 135 million Egyptian pounds ($17.1 million) in local taxes.
He said the operation has driven the development of downstream and upstream industries in Egyptian fiberglass. "Two Chinese companies have started businesses in the economic zone to supply us with materials, while an Egyptian factory has upgraded its technology and increased the number of mills it operates from one to four to meet our need for kaolin powder, a raw material in fiberglass."
The company is building a new assembly line, also with an output capacity of 80,000 tons, which will go into service in June.
Jushi Egypt employs about 1,100 Egyptians, who make up 40 percent of its mid-level executives, and 60 Chinese. Yang said the Chinese contingent will not be increased to handle the extra capacity.
He explained that the company chose to set up a base in Egypt because of the country's location and the preferential trade policies it enjoys in other markets. "If you export fiberglass to Europe from China, you have to pay anti-dumping and anti-subsidy duties of 24.8 percent, not to mention the tariff. There is no tariff if you export to Europe or the Middle East from Egypt, nor any anti-dumping and anti-subsidy duties."
Also, it takes at least a month to ship goods from China to Europe, but from Egypt it takes only a week, and a container could arrive in Turkey in just two days, he said.
Egypt is rich in human and natural resources, too. "Engineers in Egypt are well-educated," he added.
In early 2013, Muyang Co Ltd, China's largest feed machinery manufacturer in terms of revenue, also teamed up with the China-Africa Development Fund to establish Muyang Egypt in the China-Egypt Suez Economic and Trade Cooperation Zone. Together, they made an investment of $74 million.
The first phase of the project went into operation in December. Annually, Muyang Egypt aims to produce 5 million tons of silo storage units, 6,000 tons of steel structures and 50 units of feed machines, a combined sales value of $150 million.
Li Xiangdong, manager of Muyang Egypt, said the factory is in answer to the Belt and Road Initiative, which is an ambitious strategy aimed at better connecting Asia, Europe, the Middle East and Africa through infrastructure projects.
"The Chinese government's preferential policies have provided us with a very good investment environment," he said, adding that the Egyptian subsidiary's products can easily be shipped to markets in the Middle East and Africa via the Gulf of Suez, while cheap labor costs had reduced overheads.
Muyang Egypt will initially concentrate on making silos that reduce the risk of food wastage during storage and transportation, a common problem in Africa, Li said.
In addition to producing storage units for African governments, the company will also make silos that can hold up to 100 tons for African farmers to securely store their harvests.
Brilliance Auto Group, a Chinese carmaker, has announced plans to restart its assembly line in Egypt this year. The facility ran from 2006 until it was suspended in 2009.