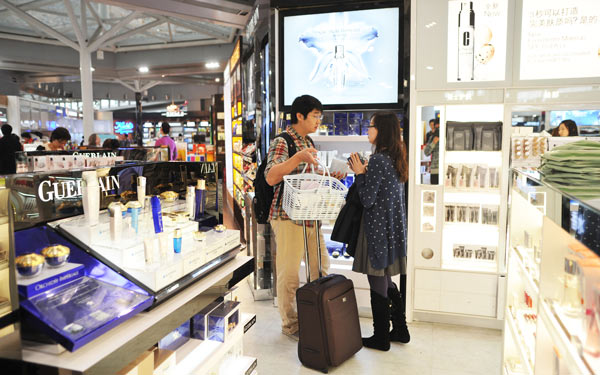 Two Chinese students buy French-made Guerlain cosmetic products at the duty-free shop in Beijing Capital International Airport. The global luxury goods market is eyeing the spending power of Chinese shoppers. [Photo provided to China Daily]
Potentially lucrative niche market is focus of attention for top-name firms
Sellers of Western luxury brands eager to capitalize on the new wealth of Chinese consumers are showering attention on students in the United States, even as sales in China falter.
The strategy is paying off for some, such as the Los Angeles Beverly Center mall, which sends buses to pick up Chinese families at the University of California at Los Angeles and the University of Southern California at the beginning of the year, when parents drop off their children, and at graduation.
"We aren't just dabbling here," said Susan Vance, the Beverly Center marketing and sponsorship director. The mall sponsors Chinese student groups with roughly 45,000 members in what she called one of its most successful marketing plans.
Chinese shoppers account for 31 percent of the $273 billion global personal luxury goods market, according to Bain and Co, and the United States is the biggest market outside of Asia.
As economic growth in China has slowed and as Beijing's anti-corruption drive cuts into sales of high-end goods there, makers of luxury brands are trying to tap this key Chinese customer base when they reach US shores.
Students are snapping up Louis Vuitton and Gucci handbags, Tory Burch shoes, as well as fashions from Fendi, Alexander McQueen, Bottega Veneta and Yves Saint Laurent, among others, according to recent interviews with student shoppers in New York.
It is not clear how much of overall luxury sales can be attributed to purchases by students, but some top brand makers clearly see the group as a financial force in its own right and as providing access to a much larger group of well-heeled shoppers-parents and family-making it an important new marketing channel.
Some 29 percent of high net-worth parents in China who send their children abroad for primary school and college choose US institutions, according to the Hurun Report, which publishes an annual list of China's richest people.
California's tourism bureau found that a majority of visits from China corresponded with back-to-school and graduation and that friends and family visited them often. Australia's tourism agency found Chinese students in university are able to influence up to 14 trips from China during their years in school.
Chinese tourists and visitors have a long tradition of buying for friends and family to avoid taxes and fake goods. In Beijing, Fang Wen, whose daughter studies at Rice University in Houston, said she relies on her to bring back small goods, such as cosmetics, apparel and jewelry.
Companies selling top brands are recognizing that influence and reaching out to students.
In New York, Prada lured students into stores by offering vouchers for leather luggage tags worth about $200, said Yun Chen, the president of the Chinese Artist Alliance of New York City, an umbrella for Chinese student groups at four of the city's top art schools. A representative for Prada did not respond to requests for comment.
Mulberry Group, a British handbag maker, set up a private sale with cocktails and desserts for students in the Chinese Artist Alliance at a store in Manhattan's SoHo district, inviting the first 100 buyers to a launch party for designer and model Cara Delevingne's handbag collaboration with the brand, Chen said. A representative for Mulberry declined to comment.
"Smart" US brands have been and should be tapping this group, which comprises about one-third of all international students in the United States, Angelito Tan, chief executive of RTG Consulting in China, said in an e-mail, adding that students are "unofficial opinion leaders" for friends and family back home.
"This is a very hermitic group, which means it's hard to access, but once you do, you are inside and can do great marketing actions from within," added Anna Szubrycht, founder of luxury consulting group Chic Being.
To be sure, connecting with students directly and consistently is difficult-students focus on their education and group leaders change yearly.
Retailer Bergdorf Goodman in New York put on Chinese New Year events for students at Columbia University and New York University, but attempts to connect "did not do well" for them, according to Julia Chien, the retailer's director of strategic initiatives.
It is also difficult to track Chinese students' influence on spending, because many use US-issued credit cards and blend in with their American classmates, so sales staff do not always know where shoppers are from, according to Avery Booker, a partner at China Luxury Advisors.
Still, Beverly Center's Vance said there was a good return on investment, or ROI, to build customer loyalty over the long term.
"These students eventually could be buying real estate or building businesses in the long term, so it makes sense," she said. "We wouldn't be still pursuing this if the ROI wasn't there."