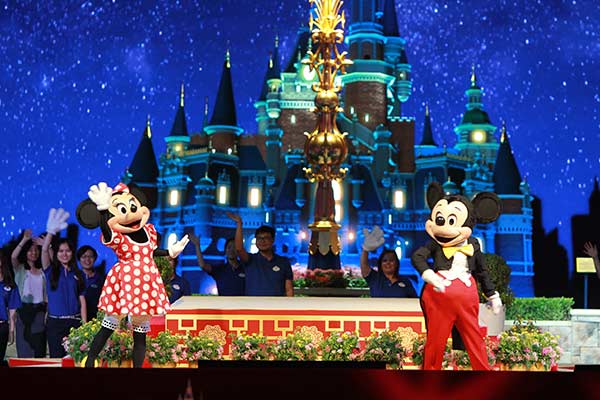 Mickey Mouse and Minnie Mouse interact with onlookers at the unveiling of the Shanghai Disney Resort model last year.[Photo by Gao Erqiang/China Daily]
Shanghai Disney Resort has revealed its ticket prices for Disneyland claiming the lowest of all 12 Disney parks and six resorts in the world.
Shanghai Disneyland ticket prices are set at 499 yuan ($75) for the grand opening period (June 16-30, 2016) and regular price at 370 yuan. Its regular price for a one-day ticket is lower than its peers in Hong Kong, which is priced at 539 yuan and the Disneyland in Tokyo in Japan at 374 yuan. The regular price for a one-day ticket at the two parks in Los Angeles is $139.
Tickets for Shanghai's Disneyland will be on sale on March 28, 2016.
Shanghai's Disneyland will have its opening day on June 16, 2016. All tickets will be date-specific and valid for admission only on the date purchased.
Peak pricing for high-demand dates, including designated holidays, summer holidays and weekends, is set at 499 yuan. Special pricing will be provided to categorized guests: children (1.4m and below), seniors (65 years old and above) and guests with disabilities will receive discounts of 25 percent, infants (1m and below) receive free admission. A two-day ticket will be available at a five percent discount. On March 28, 2016, guests can obtain information on tickets through several official channels.
Related story: Disney Resort expected to bring realty-and-retail boom to Shanghai, China Daily, by Wu Yiyao
Lu Jianxin, a real estate agent with Shanghai Huayu Property Ltd, has had some of his busiest business weeks in January since he joined the sector in 2002. Lu receives more than 50 phone calls every day asking him if he can find unoccupied retail properties near Shanghai Disney Resort, the long-anticipated multi-billion-dollar amusement project that is scheduled to open this summer (June).
Typically, Lu tells his callers they should have acted earlier. "Supplies of retail properties are really limited now and prices have more than doubled in the past 12 months. Obviously, investors believe that even a 10 square meter space for a noodle stand will be really profitable if it is close enough to Disneyland," said Lu.
It's not just business-minded people who are all excited about Shanghai Disney. Even 13-year-old Zhang Zihao in Hangzhou, Zhejiang province, can't wait for Disney to open its gates. He has been saving his pocket money for a long time so he could visit Shanghai Disney Resort during the summer vacation.
"The admission ticket price is expected to be announced this week. I have saved 500 yuan ($75.92) so far for the ticket alone, and another 1,000 yuan for dining and accommodation, and another 500 yuan for merchandise like stuffed animals, stationery, T-shirts and gifts for friends. That's about 2,000 yuan in total."
The project has been under construction for more than six years now. Jun 16-that is, 6-16-2016-has been apparently chosen as the date of opening because the three 6s are believed to be auspicious, heralding success.
Real estate professionals believe any success of Shanghai Disney Resort would entail all-round benefits for the area. For example, visitors in huge numbers would likely spark a retail boom in Shanghai.