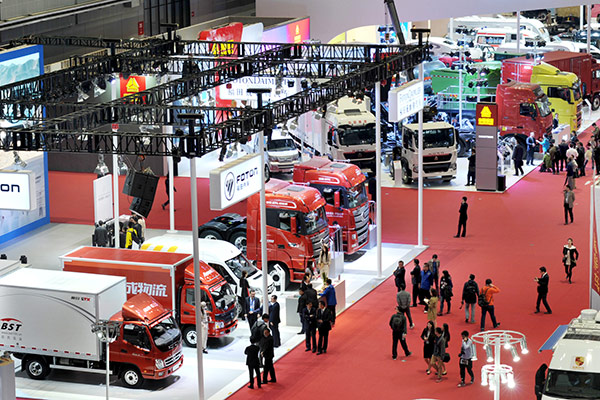 Trucks are displayed at the 2015 Shanghai International Automobile Industry Exhibition. The city's legislators will apply a new regulation for the exhibition industry to next year's legislative projects.[Provided to China Daily]
A draft of a regulation on Shanghai's exhibition industry, which includes establishing a department to handle event applications, is quickly making its way to the city's top legislative body.
The city's legislators will apply it to next year's legislative projects.
"The exhibition industry has developed quickly, with an increasing number of exhibitions held in the city," said Qian Yiliang, a Shanghai lawyer who proposed the regulation. "It's very important and necessary for the city to strengthen management of the industry."
The draft also calls for standards for exhibitions that include organizing and planning, and inviting businesses as well as on-site services and management.
It would establish a department to set requirements and standards for registered capital, professional staff and operating performance of exhibition service providers.
The requirements would also apply to companies responsible for constructing exhibition booths and stands.
Qian said the regulation should clarify application requirements for different kinds of exhibitions and classify exhibitions.
Legislators also proposed to establish an effective mechanism to deal with disputes during exhibitions. Qian said that industry associations can help resolve common disputes, including those involving intellectual property.
Qian also proposed introducing legal service agencies into the exhibition industry. The legal opinions produced by agents could be used as documentation for the examination and evaluation of an exhibitor's qualifications, he said.
The existing regulation, called Shanghai Exhibition Industry Management Approaches, was published in 2005 and has played a positive role in promoting the development of the city's exhibition industry.
However, Hu Ping, an associate professor at the Shanghai Convention and Exhibition College of East China Normal University, said that there are now difficulties in adapting to the city's efforts in building an international trade center.
"The city's service economy has developed rapidly in recent years. A new regulation should come out to resolve problems to meet new needs," Hu said.
Shanghai is a major city for the exhibition industry in China. The Shanghai Commerce Commission said 550 exhibitions were held in the city through the first 10 months of the year, a 5.4 percent increase from the same period last year. The total exhibition area reached 11.5 million square meters, up 21.4 percent.
"As one of the most influential exhibition cities, Shanghai will work as a demonstrator across the country if the regulation is finally approved," Hu said.