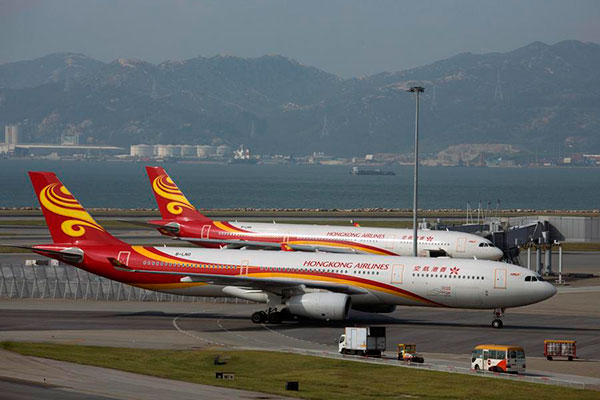 A Hong Kong Airlines passenger plane taxies on the tarmac at Hong Kong Airport in this September 11, 2013 file photo.[Photo/Agencies]
Hong Kong Airlines Ltd expects to transport about 6 million passengers this year despite the drop in the number of visitors to Hong Kong, a top official said.
The carrier's average load factor during the first six months of the year was 82 percent, compared with 78 percent in the same period of 2014, said Sun Jianfeng, executive vice-president of Hong Kong Airlines.
The number will be much higher in the second half, the peak season for the civil aviation industry, Sun said.
He made the remarks even as the tourism industry in Hong Kong reported a lackluster performance during the first six months of the year, with visitor numbers falling 3.8 percent from a year ago, according to data provided by the Hong Kong Tourism Board.
"Our positive performance has been aided by the mainland's booming outbound tourism market," Sun said.
Transfer passengers more than made up for the loss of visitors, Sun said, as a growing number of Chinese people took overseas trips.
Despite being a latecomer in the market, Hong Kong Airlines, which was set up in 2006, has managed to cash in on Hong Kong's importance as a major hub in the Asia region.
Statistics from the Hong Kong Tourism Board show that the number of same-day travelers, who are mainly transfer passengers, rose 8.4 percent year-on-year in the first half of 2015.
As an international air traffic hub, around 1,100 flights take off and land in Hong Kong everyday on average, said Anthony Cheung Bing-leung, secretary for transport and housing of Hong Kong Special Administrative Region.
The local authority is also planning to build a third runway at the Hong Kong International Airport, and it will add over 30 flights each hour to the airport from March.
"It is like a vortex and more airlines would be attracted to the airport," said Li Dianchun, commercial director of Hong Kong Airlines.
Hong Kong International Airport is one of the typical vortexes, Li said, adding that the carrier is looking to further expand its operations.
During the past nine years, Hong Kong Airlines has built up its network in Asia, including the mainland, Japan and some Southeast Asian countries or regions, Li said. The carrier will develop its global network in the next five years, he said.
The carrier will launch the Hong Kong-Cairns route on Jan 8, 2016, which will be its first route to Australia. It is also planning to add New Zealand to its list of connections from next year, Li said.
"Australia and New Zealand are just the first steps of our going global," he said. Hong Kong Airlines will also explore the US and European markets from 2018, when it starts to receive its 15 Airbus 350 aircraft orders.