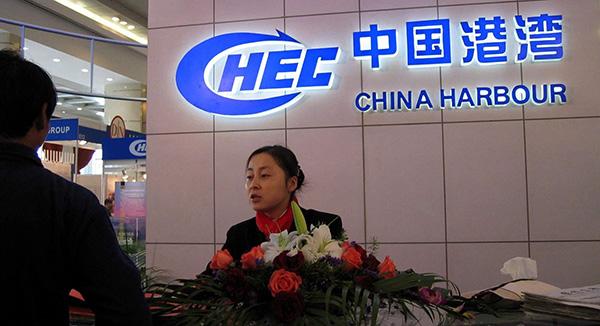 The booth of China Harbour Engineering Company at an expo in Shanghai. [Provided To China Daily]
Experts are confident that a China-led consortium's landing of a giant road-building project in Colombia could unlock other Latin American infrastructure deals in future.
Autopistas Urabas, a consortium led by China Harbour Engineering Company (with a 30 percent share), was awarded the bid to build the 245-km highway, Autopista al Mar 2, by Colombia's national infrastructure agency on September 22.
Valued at 2.6 trillion pesos ($872 million), the contract will also involve the building of 27 tunnels, 22 bridges and viaducts.
The Colombian stakeholders in the venture are SP Ingenieros (30 percent), Pavimentar (25 percent), Unidad de Infraestructure y Construcciones Asociadas (10 percent) and Termotecnica Coindustrial (5 percent).
"The Colombian government is determined to develop its domestic economy with a particular focus on agriculture and infrastructure," said Chen Xiaoyang, an expert in Latin America at the China Institutes of Contemporary International Relations.
"Railway and road construction will boost the export of agricultural products to Asia-Pacific countries, just like the role the Panama Canal plays in trade.
"Starting from last year, Colombia began to implement its fourth national development plan (2014-18) with a budget of $350 billion, 30 percent of which will be invested in infrastructure. These goals and plans offer great opportunities to Chinese companies, which have rich experience in infrastructure construction," said Chen.
Autopista al Mar 2 is included in the Autopistas para la Prosperidad program, as part of the fourth generation of road concessions offered by the Colombian government, the largest in Latin America, which includes 47 projects worth $25 billion.
However, China's investment in Colombia is still in its infancy, said Chen, adding the country's direct investment in Colombia is less than $100 million at the moment, mainly in telecommunication, oil and gas, and infrastructure.
"Chinese companies are still unfamiliar with the legal system and public tendering rules in the country. Therefore, joining a consortium together with Latin American companies is the ideal way to engage in infrastructure projects."
Premier Li Keqiang visited Colombia in May, the first state visit to the country by a Chinese premier in three decades. The visit focused on collaboration between the two countries in energy, infrastructure, equipment manufacturing and agriculture.
"Colombia has great demand for infrastructure construction and its friendly investment environment has made it an ideal destination for Chinese investment," said Zhang Sengen, a researcher with the Institute of Latin America under the Chinese Academy of Social Sciences.