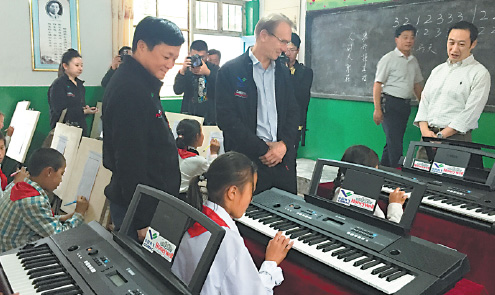 Students at a COMAC-Honeywell Multimedia Learning Center in Xiji, a county of Ningxia Hui autonomous region in western China. The companies have set up two learning centers, which will benefit about 500 students in the county. [Photo provided to China Daily]
Two aerospace companies are helping school children from underprivileged backgrounds get a flying start in life.
Honeywell Aerospace and Commercial Aircraft Corp of China Ltd have donated more than 4,000 books, 11 computers and five projectors to two schools in Xiji, a county in Ningxia Hui autonomous region in western China.
The companies have also provided other digital educational tools besides creating two "Honeywell-COMAC Multimedia Learning Centers" to help students experience science and technology in a new way.
Almost 500 children in Xiji will benefit from the learning centers.
"We have worked closely with the local government to alleviate poverty in Xiji county by repairing roads, building factories and educational supports," said He Dongfeng, general manager of COMAC.
The project was funded by a $55,000 grant from Honeywell Hometown Solutions, the aerospace manufacturer's corporate citizenship program.
This year, it has worked with China's Belt and Road Initiative to promote infrastructure and resource development.
Honeywell, which is based in the United States, has cooperated with COMAC, one of China's two main aircraft manufacturers, since 2008.
By supporting the Belt and Road Initiative, which was rolled out by President Xi Jinping in 2013, the companies hope to improve the educational environment in rural China.
"In collaborating with Honeywell and Honeywell Hometown Solutions, the project is making an impact and helping communities," He said. "The students will now have opportunities to make contributions to their hometowns, to society and to the country."
Since 2013, COMAC has worked to alleviate poverty and build local infrastructure in Xiji, according to Briand Greer, president of Honeywell Aerospace Asia Pacific.
As a partner, Honeywell has a long history in cooperating with COMAC on a number of critical initiatives, including the ARJ-21 and C919 aircraft.
"The partnership has developed from business into one of kindred spirits," Greer said. "Both companies share a common passion for improving the lives of the communities."