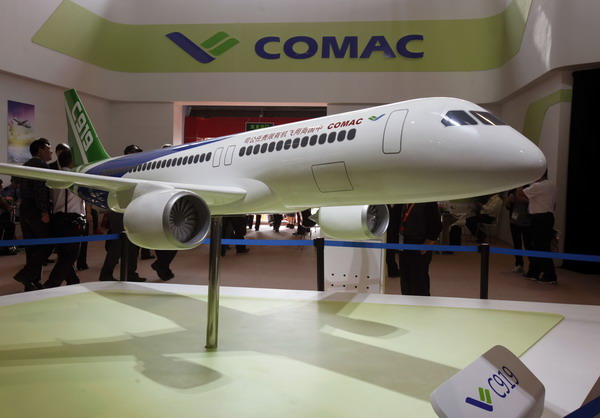 A model of the Comac C919 passenger plane, which is built by the Commercial Aircraft Corporation of China (COMAC), is displayed on the first day of the China International Aviation & Aerospace Exhibition, in the southern Chinese city of Zhuhai. [File photo / Agencies]
The maiden flight of China's only homegrown commercial jet, the Comac C919, is behind schedule and delivery could be pushed back as much as two years, sources familiar with the program said, dealing a blow to its push to challenge Airbus and Boeing.
The narrow-body aircraft, which will be able to carry 156-168 passengers and aims to compete with the Airbus A320 and Boeing 737, was originally scheduled to fly by end-2015 but two sources said it would be delayed to the first half of 2016.
Delivery of the first plane, scheduled for 2018, is also likely to slip, perhaps to as late as 2020, the sources added.
That means the C919 will be later, and a technologically inferior product, than the re-engined and improved variants of the 737 and A320 that will enter service in the next two years.
State-owned Comac, which is leading the design, development and production efforts into the C919, declined to comment.
China has high hopes for the C919 in the lucrative narrow-body market which accounts for more than 50 percent of the aircraft in service.
The final assembly of the first aircraft is taking longer than expected at the production facility in Shanghai, said the sources, who declined to be identified as they were not authorized to speak to the media.
"Comac is proceeding extremely cautiously with the first aircraft. It is deliberately checking everything ... to ensure that there are no safety issues," one source said.
Comac has commitments for 450 C919s, mainly from Chinese airlines and leasing firms backed by Chinese banks and financial institutions. Further delays will make it harder for the plane to make an impact beyond its home market.
China has identified the development of a mature aerospace industry as being key to economic growth, and the C919 and the acquisition of the associated technological know-how is central to that goal.
While Comac executives and Chinese government officials are concerned about the impact of the delays on the image of the C919 and the country, safety is a priority, said sources.
"Any delay is unfortunate, but it is far more important to have an aircraft that is safe and reliable. China is developing the C919 with long-term goals in mind, and it must be patient and careful," said a source close to Comac.