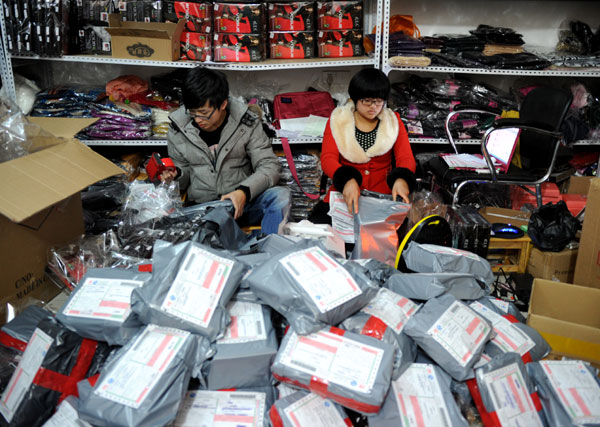 Workers packing goods at an online shop in Yiwu city, Zhejiang province. [Zhang Jiancheng / For China Daily]
Online shopping and B2B companies face challenges to cut down on waste, and make products more environmentally friendly
China's e-commerce industry is booming, but pursuing sustainable development and protecting the environment might take more than a click of a mouse.
Last year, the business was worth 12.3 trillion yuan ($1.93 trillion), up 21.3 percent from 2013.
About 70 percent of the sector is involved in the online business-to-business industry, or B2B, with 20 percent going to Internet shopping, according to research firm iResearch.
"The e-commerce business has the ability to make production and consumption greener," said Yang Ke, deputy director of the Institute of Environmental Public Relations and Strategic Communications at the Ministry of Environmental Protection.
While e-commerce has helped expand the country's economy, there have been major environmental challenges. One positive aspect is that large B2B enterprises collect orders and manufacture the exact number.
This helps safeguard resources, and cuts down on energy and storage. Online platforms, such as buyerparty.com, enable producers to customize production, and this in turn trims waste.
Yet "over packaging" by e-retailers produces mountains of waste that have to be disposed of and that creates pollution. Online shopping also fuels consumption and that again can produce waste material that has to be dealt with. Non-recycled plastic and styrofoam packing can do irreversible harm to the environment.
Last year, plastic tape waste ran into 10 billion kilometers, enough to go round the world 200 times. To address these problems, e-commerce companies have adopted different methods.
Recyclable materials made out of cornstarch have been adopted by dangdang.com to pack its products. JD.com has abandoned secondary packing and started to replace paper receipts with electronic ones.
A major slogan from Yihaodian, known as Shop No 1, is "50 points for every package you recycle". The points can then be used to pay for orders or saved as e-coupons. A large bottle of imported milk is worth about 500 points.
On average, the company recycled materials from more than 300,000 packages every month, and the number keeps rising. Another way to cut down on pollution is to skip "the last kilometer". By establishing pickup stations, e-commerce companies direct customers to where their goods are being delivered.