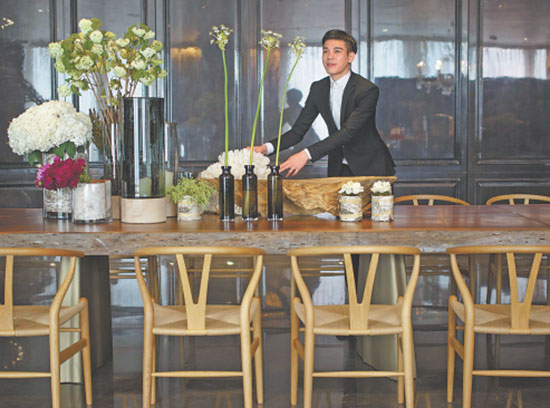 A showroom for the Lakeville luxury residence project in central Shanghai. Upmarket property buyers are switching to a more Art Deco approach. [Photo/China Daily]
Expensive hand-painted Japanese wallpaper, and subtle Art Deco fittings and furniture have replaced the splendor of the Rococo look
It used to be all "bling, bling, bling" when it came to buying luxury properties in Shanghai. But now upmarket buyers are switching to a more Art Deco approach, with style and substance replacing flash and brash.
As you stroll through Queen's Gate in the west of the city or centrally located Fuxing Royale, you will find installation art, subtle furnishings and smart domestic appliances in the rows of expensive homes.
At the showroom for the new Lakeville luxury residence project in central Shanghai, which opened in May, ink-and-brush paintings and sculpture-like seats adorn the space.
An Italian glass chandelier, costing about $8,000, lights up a $12,000 Brazilian-ebony dining table, while Japanese hand-painted silk wallpaper, at $400 per square meter, hangs in the gallery.
"Here we talk about lifestyle, not just the house itself," Allen Taylor, general manager of product development and high-end residential sales with Shui On Development Ltd, which includes Lakeville, said.
Taylor has been working in the city for more than a decade, overseeing sales of Lakeville, one of the most expensive residential brands in Shanghai. The real estate company offers apartments with prices starting at 15 million yuan ($241,650). Upscale villas cost more than 150 million yuan.
"The riches in the city have turned their back on the bling, bling splendor of Tudor or Rococo-style furniture and decorations," he said. "This used to be very popular. Now, it is more tasteful, more Art Deco style. Items have a lower profile, but they could be more expensive."
Potential buyers visit the showroom for inspiration, searching for the right furniture and fittings, which could cost them up to $60,000. Every six weeks, the design display is replaced and a new batch of luxury labels are brought in.
Angie An, a designer with Domus Tiandi, a high-end interior design company that offers a wide range of upmarket products from all over the world, has seen a distinct change in the luxury residential property sector.
"Home owners do not want their 10 million yuan homes to look all the same or be copies from a Europe-an tourist attraction," she said. "They want things that are unique and artistic-that fit into their lifestyles."