China investment on the rise in Dubai's property market
The sale of 743,224 square meters of land 3 kilometers away from the Burj Khalifa, which at 829.8 meters is the world's tallest building, signaled that Dubai's property market was back on track in late 2011.
The sector, which soared for six consecutive years following the launch of the freehold market in 2002, later crumbled in the wake of the global economic crisis in 2008.
It was not yet back on its feet when the announcement was made about a massive new development, Sobha Hartland, which will include hundreds of villas and apartments, in addition to retail space, schools, offices and upscale hotels once completed.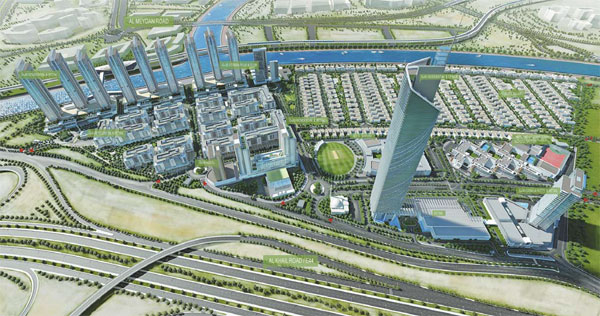 An aerial view of a model of the Sobha Hartland project, another landmark in Dubai that will include hundreds of villas and apartments, in addition to retail space, schools, offices and upscale hotels once completed. Provided to China Daily
It will also be the closest freehold multipurpose development project in downtown Dubai open to foreign buyers.
"Sobha was the first mover post the downturn in terms of acquiring land at such a scale, so it obviously garnered a lot of attention," said Siddharth Vaikunth, the developer's managing director.
"People said that PNC Menon, the founder of Sobha, was a visionary, or they were very skeptical," he added.
Those in the latter group seemed to have good reason to be wary. Housing prices increased by 56 per cent in the two years to June 2014, prompting fears the market was heading for another bubble.
However, many property experts were on Menon's side.
"Since then, over the last six months the market has calmed down. It has really entered a period of stability. In the six months since June last year we have virtually seen zero price growth," said Craig Plumb, head of research for the Middle East and Africa at renowned real estate service firm JLL.
Recent Dubai government initiatives, which include new regulations for escrow accounts that prevent developers from taking money out before projects start, are expected to stem any future major price plunges.
"Long term we are very confident about the future of Dubai. We think the market is here to stay. And if you look at it regionally it is definitely the strongest growing market in the Middle East," said Plumb.
Still a good buy
The fact remains that Dubai is still a good buy when compared to other prime property markets.
According to JLL, a 2- or 3-bedroom apartment in the Burj Khalifa, the "primest of the prime" real estate in Dubai, costs about $7,000 a sq m - compared to about $32,000 a sq m for a similar development in Hong Kong and $30,000 in London.
In 2014, more than 140 nationalities invested in the Dubai real estate market, with total transactions amounting to AED218 billion ($59.4 billion). Among them, 1,023 Chinese investors contributed about AED1.77 billion.
The number of Chinese investors was roughly the same in 2013 at 1,050, with a total value of AED 1.34 billion. In 2012, there were only 288 Chinese investors, who bought AED 486 million worth of property.
"The number of Chinese investors is a small part of the market but it is definitely growing," said Plumb.
Du Hongbo, general manager of the international city office for Atomic Properties, which claims to be the most popular real estate agent among the Chinese community in Dubai, agreed.
"According to my knowledge, there are lots more Chinese investors than before. Now there are more and more Chinese people coming here and they are starting to invest in Dubai," he said.
The number of Chinese tourists visiting Dubai rose by 25 percent in 2014.
"We are seeing an influx of more Chinese coming to the UAE and exploring opportunities," said Arshad Rana, head of secured assets at Noor Bank, which offers foreigners mortgages for off-plan properties.
"We have had quite a few inquiries coming out of China, which is encouraging," Rana said.
Even Chinese construction companies are bidding for or winning more contracts in Dubai, which is likely to attract more individual Chinese investors in the future, Plumb said.
Dubai is already home to a sizeable Chinese population. More than 200,000 Chinese nationals now live in the emirate.
The city is home to the largest trading hub, the Dragon Mart, for Chinese products outside the Chinese mainland.
"The number of Chinese property buyers is relatively small because they prefer knowing the market well before they invest," said Du, who is confident that more Chinese investors will come.
"They will come here. They will get to know it and then they will think about it," he said.
"The long-term investment is still very good. I think our people will gradually find out and increase their investment," he added.
gillian.sarah.duncan@gmail.com