Chinese authorities have eased mortgage lending terms and housing taxes to boost the property market and add fuel to overall economic growth.
The People's Bank of China lowered the minimum down payment for second homes from 60 to 40 percent on Monday, while the Ministry of Finance announced its plan to cancel sales tax on pre-owned homes sold two years or more after purchase.
International rating agency Moody's expects such policy easing to alleviate downside pressure on property sales, which declined by 16.7 percent in the first two months of this year.
For prospective home buyers, here are the five trends predicted by Moody's that will help buyers better understand the market.
1. Decline in national contracted sales to ease for rest of the year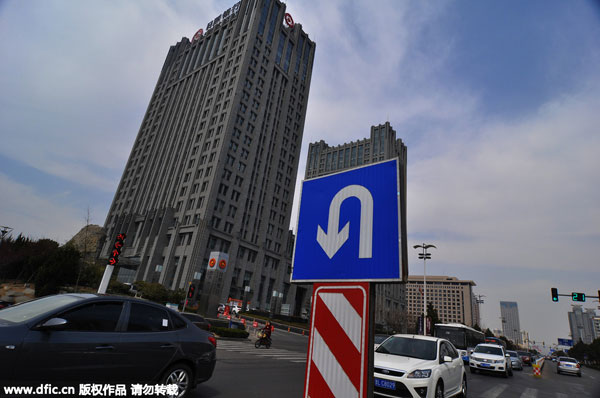 A traffic sign stands near a commercial building in Rizhao city, Shandong province, Mar 25, 2015. [Photo/IC]
Moody's expects nationwide home sales to record a narrower year-over-year decline of between 0 and 5 percent compared to 7.8 percent in 2014 because of the greater availability of mortgages and improved buyer's sentiment following supportive policies.
China's property market retained a downturn in the first two months of 2015, as contracted sales declined by 16.7 percent year-over-year to 4.98 trillion yuan, according to the National Bureau of Statistics.
The volume decline was higher than expected, but was partly because many homebuyers made their purchases before year end when developers actively launched new sales projects, Moody's said in a note.