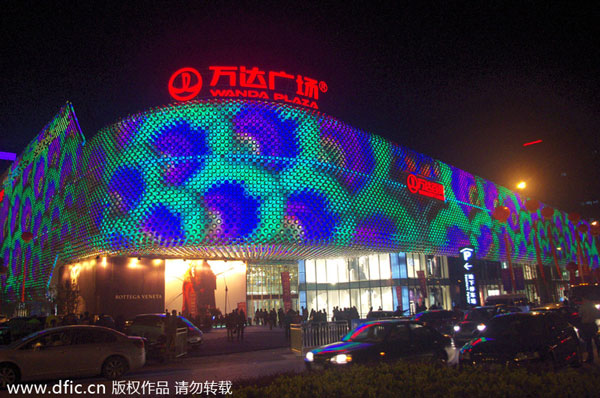 Photo taken on Sept 28, 2013 shows the night view of the Wanda Plaza in Wuhan, Hubei province. [Photo/IC]
In a statement to the Hong Kong Stock Exchange on Wednesday, Dalian Wanda Commercial Properties Co Ltd announced a partnership with the real estate investment arm of Bright Food (Group) Co Ltd to jointly develop commercial properties in the Chinese mainland.
According to the investment framework agreement, the two companies, along with other three investors including a subsidiary of Harvest Fund, will raise 24 billion yuan ($3.9 billion) this year and next, to build about 26 Wanda Plazas in cities across China.
The cooperating partners will invest in a special fund. Wanda would be responsible for design, construction, canvassing and operations.
Wanda Plaza is the flagship shopping complex project developed by the Dalian Wanda. The complex project is rapidly expanding in the domestic market. Dalian Wanda owns and operates 159 Wanda Plaza shopping centers across 109 Chinese cities, 88 of which are currently under construction.
According to a statement released by Wanda on Thursday, the company said that this is the first time outside investors have been allowed to fund Wanda Plazas and that the company decided to do this because it was introducing an "asset-light" business model
In the asset-light model there are no connections to real estate sales, rendering it a total financing investment practice. The net rental income will be shared between Wanda and the project investors.
It is also reported that Wanda is in discussion with a number of domestic and international investment banks, insurance companies and funds, to achieve more investment agreements for Wanda Plaza projects in the first half of the year.