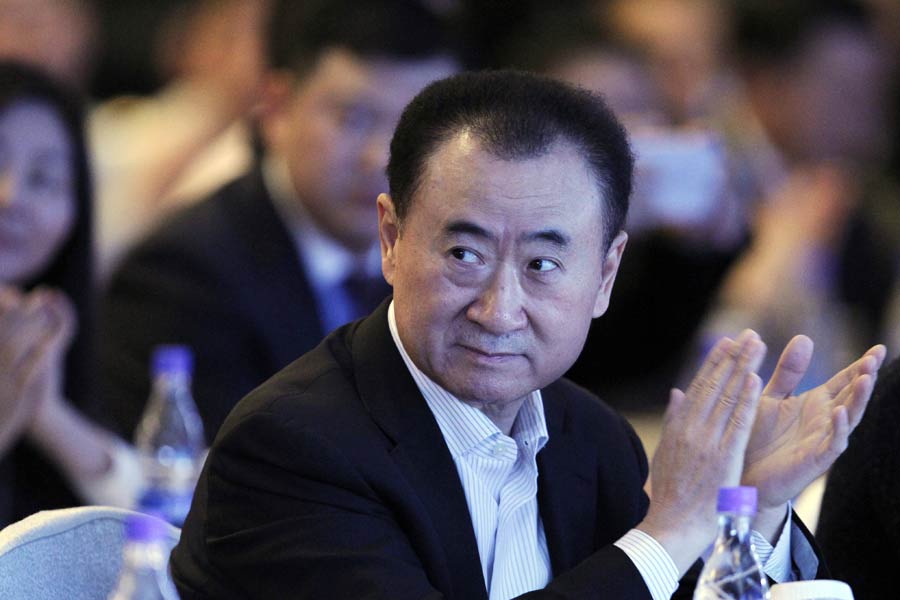 Wang Jianlin, chairman of Wanda Group. ZHU XINGXIN/FOR CHINA DAILY
The world's cultural industry will get more technology-savvy in the future, said Wang Jianlin, chairman of the Chinese real estate conglomerate Dalian Wanda Group.
The group invested 2.5 billion yuan ($404 million) in the high-tech live stage performance, The Han Show, which opened on Saturday.
According to Wang, the group has set its eyes firmly on massive projects and puts great emphasis on the integration of culture and technology.
Since the group first entered the cultural arena in 2006, it has tapped into a range of fields including movies, stage performances, theme parks, print media, art collection, cultural tourism, and many others.
In 2010, it established the Wanda Cultural Industry Group in Beijing. Two years later, the group's income from the cultural industry reached 20.8 billion yuan, ranking among the top 30 Chinese cultural enterprises of 2012.
In Wuhan of Central China's Hubei province, the group has invested 6 billion yuan in two projects, The Han Show theater and a movie-themed park called Movie Park.
The two projects are expected to generate 1.2 billion yuan annually, topping most other cultural projects in the country, according to Wang.
He noted that seven technologies used in The Han Show have gained patents or intellectual property rights.
In the show, three massive LED screens are combined to make a flying screen of more than 200 square meters.
Wang said the device was produced by Wanda Cultural Tourism Planning and Research Institute.
He noted that underwater equipment used in the show was invented by the group, at less cost than instructing a US company to make up their designs.
"We think that the world's cultural industry landscape will be changed by high-tech and those who can combine culture and technology can attract a larger market," said Wang.
By 2020, the group's cultural sector is expected to see its income reach 80 billion yuan. In the next decade, there will be several Chinese cultural theme parks around the world.