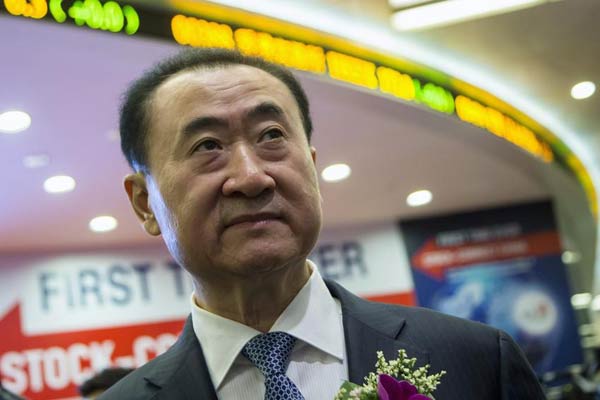 Wang Jianlin, chairman of Dalian Wanda Commercial Properties, attends a ceremony during the debut of the company at the Hong Kong Stock Exchange Dec 23, 2014. [Photo/Agencies]
China's Dalian Wanda Commercial Properties Co Ltd on Wednesday said four investors have agreed to contribute 24 billion yuan ($3.87 billion) over the coming two years as the first tranche of funding to build around 20 shopping malls.
This is the first time outside investors have agreed to fund Wanda Plazas, a person familiar with the matter said, in a change in business model prompted by a slowing market. Dalian Wanda will oversee the malls' sales and operations.
The investors are the real estate investment arm of China Everbright Ltd, Harvest Capital Management Co, Sichuan Trust Co and KuaiQian Payment and Settlement Service Co Ltd, Dalian Wanda in a statement. Dalian Wanda's parent company bought a controlling stake in KuaiQian Payment last month.
Dalian Wanda is talking with several local and international investment banks, insurance companies and investment funds about putting money into its properties and so more such groups of investors are likely to be set up in the first half of this year, said the person, who was not authorized to speak publicly on the matter and so declined to be identified.
Dalian Wanda, whose shares debuted in Hong Kong in December, owned 159 Wanda Plaza shopping centers across 109 Chinese cities, including 88 projects under construction, as at the end of 2014.