Provincial GDP again surpasses national data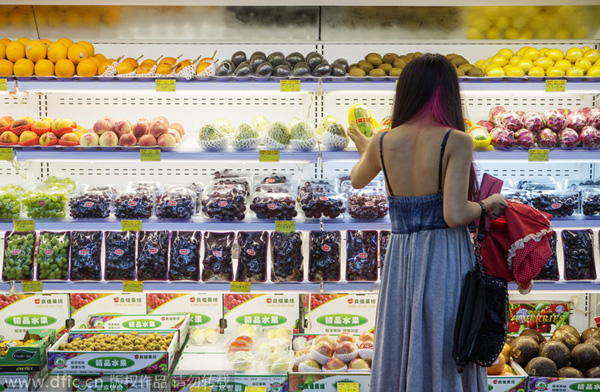 A lady is in a supermarket for buying fruit in Wuhan, Central China'sHubeiprovince, Sep 3, 2014. [Photo/IC]
Total GDP figure of 31 provincial regions in Chinese mainland outnumbers the country's official GDP calculated by the central government in the first half of 2014, China Youth Daily reported in September.
Data shows that the total GDP amount of the 31 provinces reached 30.3 trillion yuan ($4.9 trillion), 3.4 trillion yuan higher than the figure of central government released by National Bureau of Statistics. It has been the 10th consecutive year that such a difference has existed since 2004.
Hu Shaowei, head of the economic forecasting department of State Information Center, said this phenomenon was due to the different calculation methods of GDP and probably the inevitably duplicate calculation of the same product.
Other experts told China Youth Daily that local officer's GDP worship might be the true reason behind this huge gap.