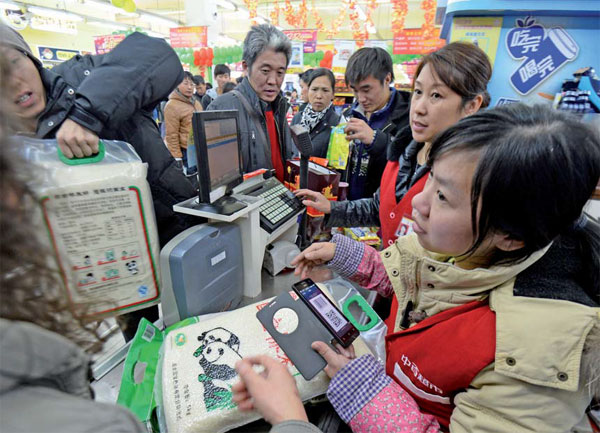 Customers check out at a supermarket in Wuhan, Hubei province. Jin Siliu / China Daily
Xu Fengxian, a researcher at the Chinese Academy of Social Sciences, said local governments' enthusiasm for chasing high GDP figures may cool under the new system, and they will pay more attention to growth quality.
Ma said China will adopt the International Monetary Fund's Special Data Dissemination Standard next year to enhance the availability of timely and comprehensive economic and financial data.
This will fulfill a promise to improve the dissemination of statistics made by President Xi Jinping at the Ninth G20 Summit in Brisbane, Australia in November, Ma said.
He suggested that the surveyed unemployment rate be released soon, saying this will be the focus of global attention as it can show real growth quality and the situation in China's job market.
He stressed the importance of this data, saying the nation's top leadership requires a more specific job market indicator before setting the annual GDP growth target and adjusting macroeconomic policies.
Economists predict that as long as unemployment remains low, policymakers may tolerate a slower growth rate of about 7 percent next year, compared with 7.5 percent in 2014.
Ma said the unemployment survey will expand samples and increase statistical content based on the current registered unemployment rate provided by the Ministry of Human Resources and Social Security.
In 2013, the registered unemployment rate in urban areas reached 4 percent, according to the statistics bureau.
Ma also said that big data and cloud computing will provide new technology support for production of statistics in China.
"We will further use data from the online trading platform to calculate more accurate indicators of retail sales, and regularly report the online retail figures," Ma said.
The bureau will also use online search and web browser technology to improve the statistics in the consumer price index, producer price index and house sales data.
Telecom regulatory and population registration data can also help to clarify the unemployment situation and monitor population movement, Ma said.