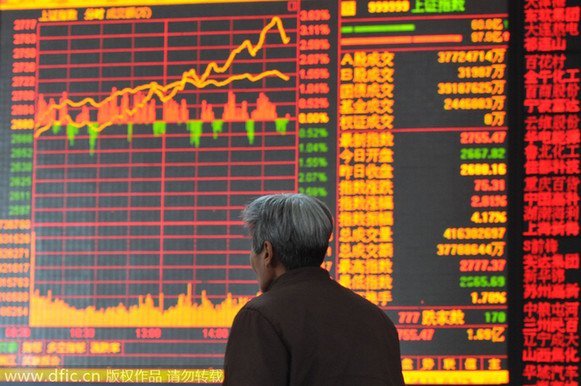 An investor checking stock index in a localbrokerage firm, at Fuyang, Anhui province, Dec 2, 2014. [Photo/IC]
China's benchmark Shanghai Composite Index rallied to its highest level since November 2010, led by gains in sectors including banking, electricity and metal on Friday.
China Aluminum Corp soared 10 percent after announcing its plan to dispose of non-core assets. Air China, China Shipping Development and Guangzhou Shenzhen Railway also jumped passed the daily limit as crude slid to a five-year low.
The Shanghai index closed at 3108.6 points on Friday, up 1.67 percent or 51.08 points, while Shenzhen Component Index slid 0.36 percent to 10627.11 points, partially due to a slump among technology and small-company stocks.
China Guodian Corp and Datang International Power Generation Co both soared 10 percent, and Huadian Power International Corp 8.4 percent on Friday, in preparation for an expected reform plan from the government, according to a note by Dongguan Securities on Thursday.
BYD rebounded 2.85 percent in A-shares and 18 percent in Hong Kong after the electric carmaker said its shareholder Berkshire Hathaway Inc had confirmed it has no intention to reduce its stake in the company.
The CSI 300 Index advanced 1.11 percent and closed at 3383.17 on Friday.